Monday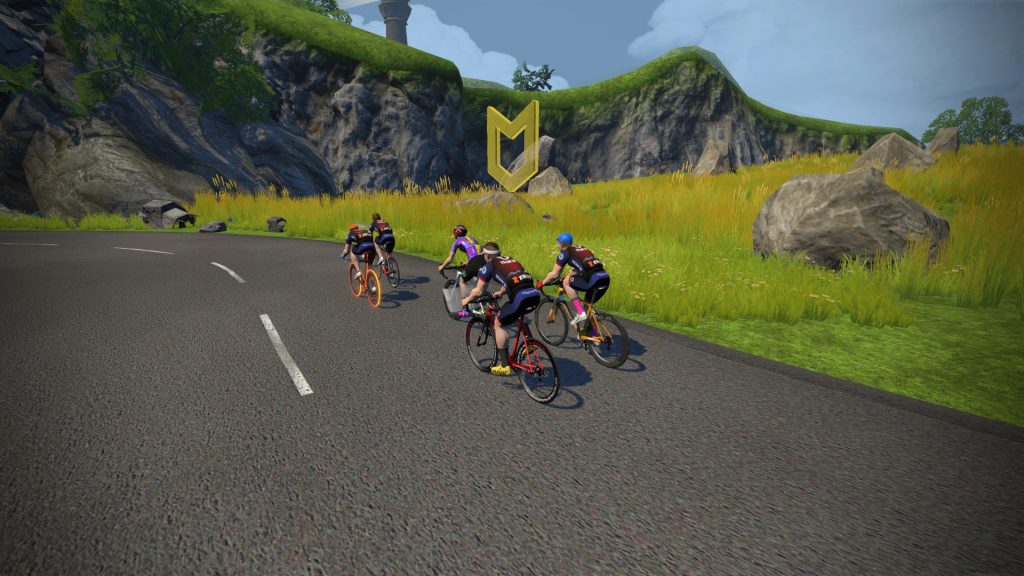 Monday Meetup, and making up for missed workouts last week. Today we have another session in the 20' Sprint Intervals. The meetup today saw the original ZF Meetup Team, a bunch of us guys that started this little project during the lockdown, and we have been doing it for over a year now.
The session went well, I felt strong, probably due to having 4 days off !!
My goal for the 20' Sprint was to aim to hold 8w/kg, I managed to hold this up to the last sprint, which I dropped to 7w/kg.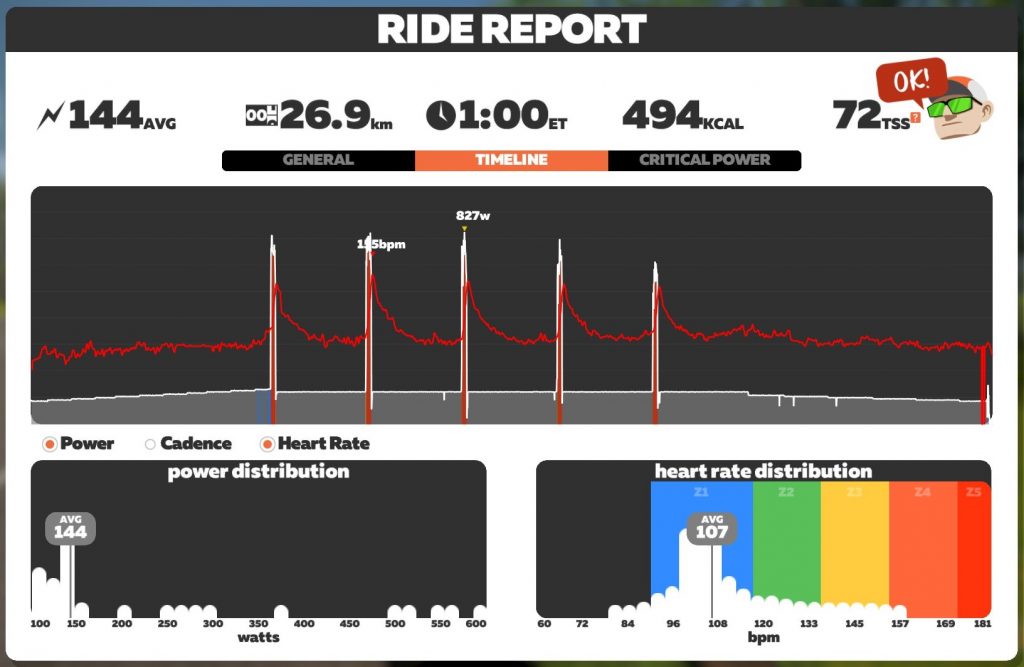 It was really nice to catch up with mates on this one, I needed the motivation, and push to get back into it today.
Let's hope I can continue the mental strength for the remainder of this week.
Tuesday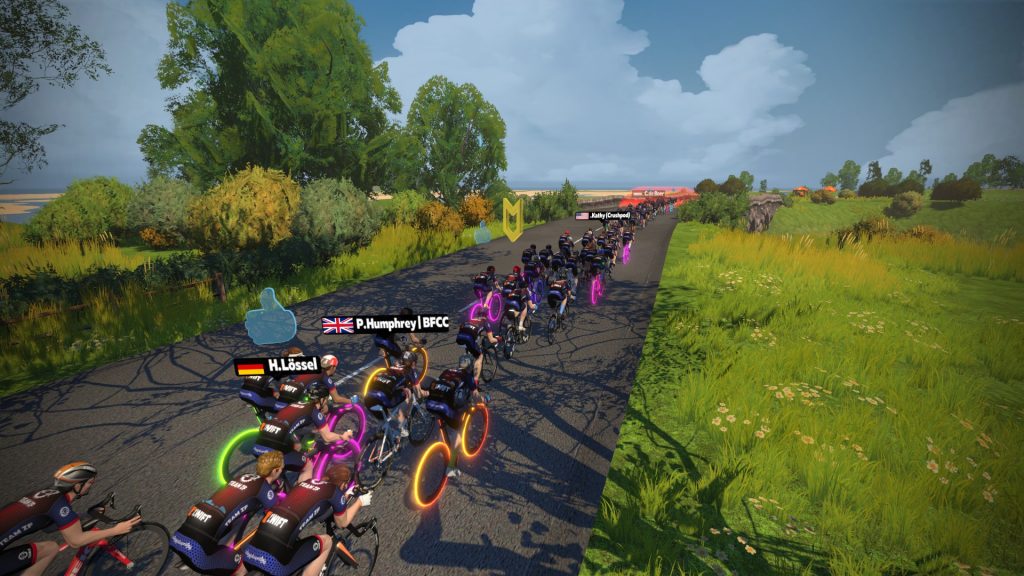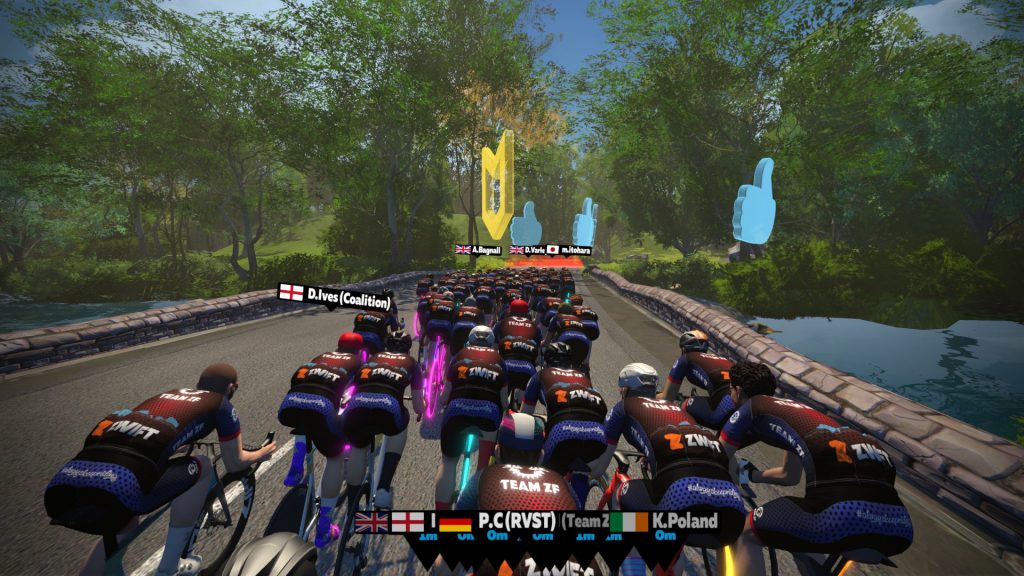 This week in the TeamZF Social Tour, we traveled to France for 60mins of fun around the R.G.V. Route. Definitely one of the most picturesque worlds on Zwift. 130+ riders made this a really fun event to lead. A good bunch ride can really change your mood for the day, and this is just what the Doctor ordered today!!
I love meeting new riders at our events, and spending time with my regulars, joking around, and of course, picking on Thommo!!
The event was about 35kms, I rounded things up to 40, feeling good today!!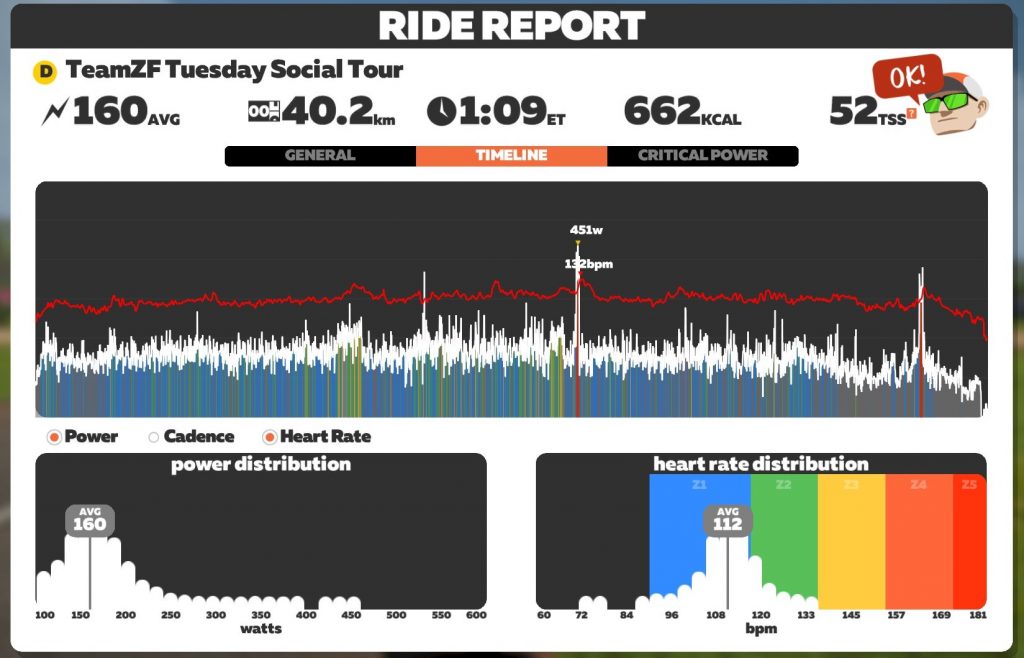 Wednesday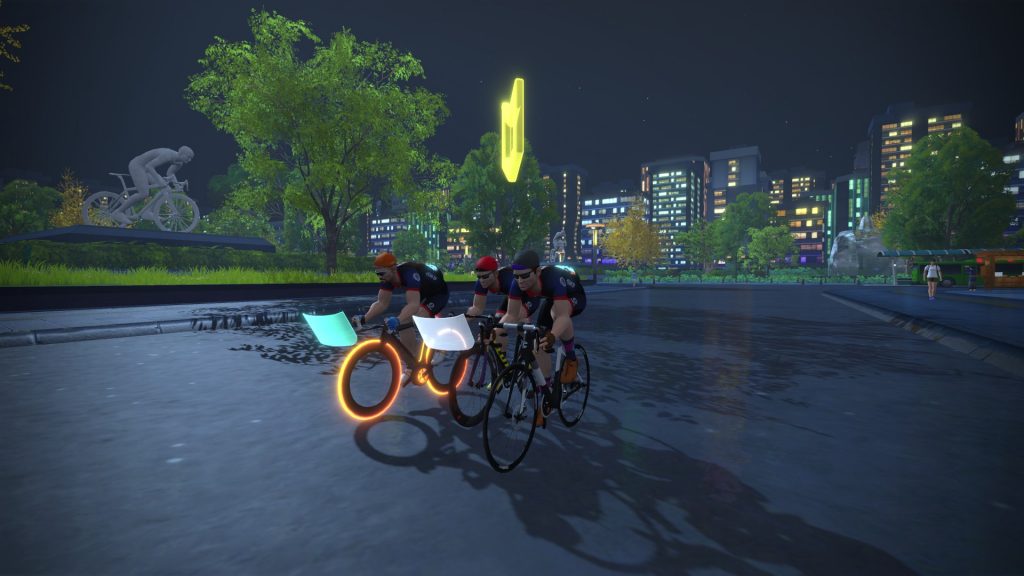 Wednesday and I've just checked my Trainingpeaks account for my workout……Oh, Man!!! Great, 60sec VO2 Max Intervals x17 !!! But, so far Coach has not killed me yet, but pretty close, so I guess I need to follow on.
Creating a little meet-up with some buddies, we set off into the Makuri Islands to view the Neon Lights for my workout.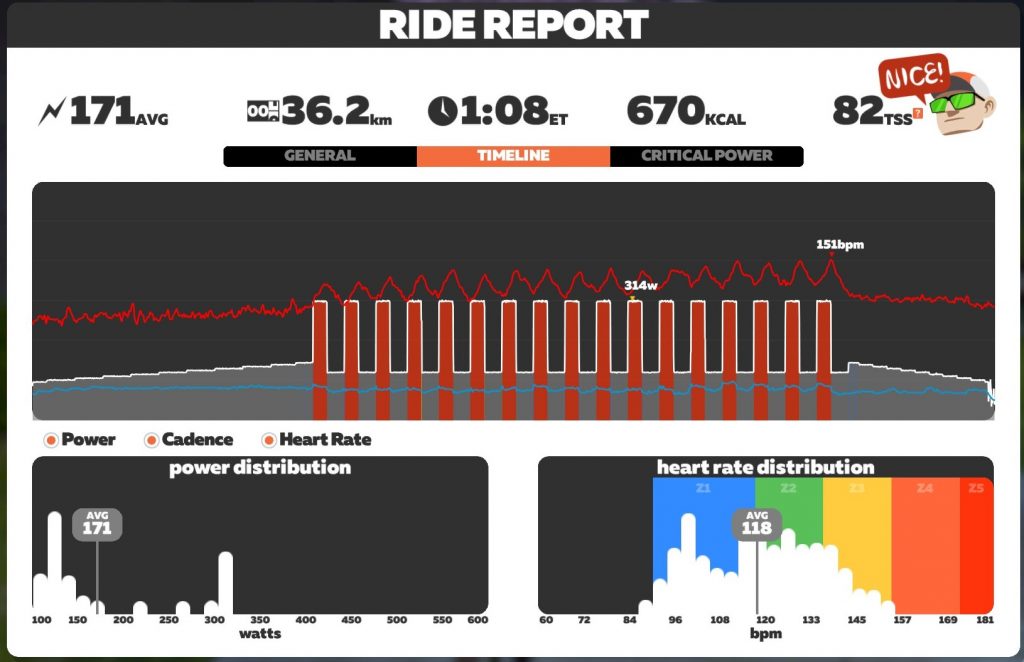 Thursday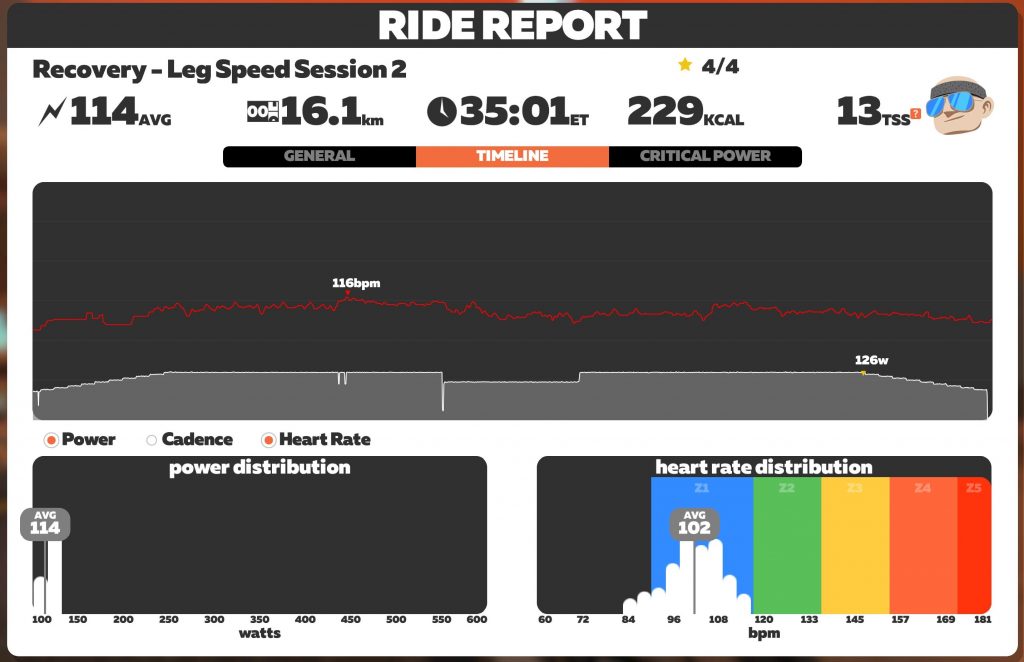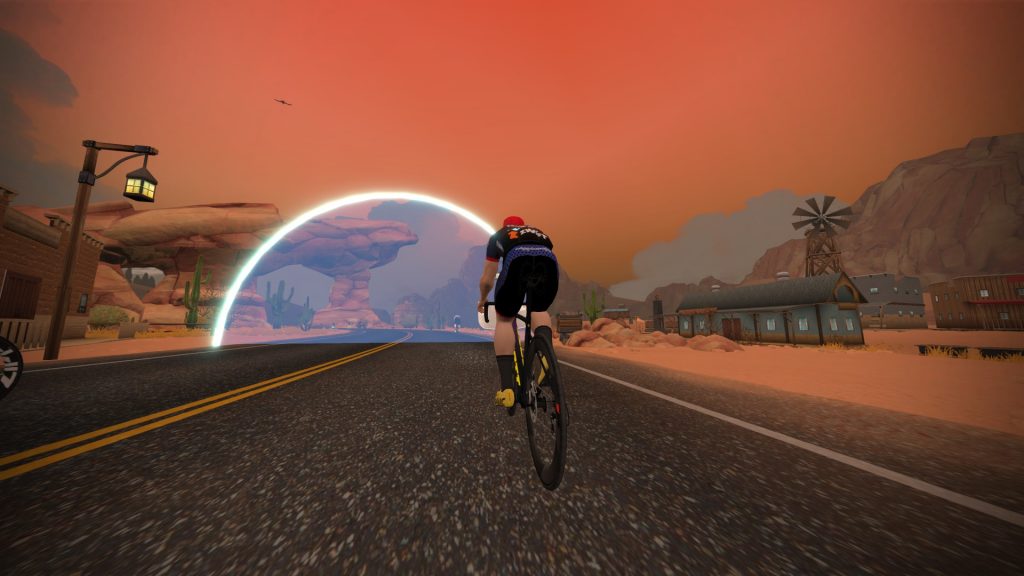 I was worried about today, I felt sore from my workout the day earlier, after a long 20min warmup, it was time to take on 17 hard efforts. The first one is always tough, all good, legs are ready, let's take it one by one.
By the 5th 60sec effort the legs were on fire, the bunch started chatting away on discord, it got my mind off the pain points and helped me focus back.
By the time we got to the last one, my momentum was strong, and I knew I had smashed it!
It's the best feeling completing something, that you doubted yourself at the beginning. You can check out the session here: https://youtu.be/RnN_rsfgxkI 
Friday
It's time for a nice easy chilled ride after the past few days of solid efforts. Upon checking my workout, I'm delighted Coach has planned a short 35min session in Zone1, some cadence drills to loosen up the muscles. Riding a solo effort around the flats of the Watopian desert. An update on the mind and body, I'm doing ok, a few little factors getting me down. The legs feel good after today's easy one, I need to get better at making time for stretching. I typically only stretch on the harder efforts. Coach wants me to use my foam roller more, but that thing hurts so bad haha!!!
With a late change, we moved Friday's session to Saturday due to family commitments, meaning I would need to do a couple of rides on Saturday.
Saturday
The workout lined up for today was my Max Sprint efforts, but this week has seen an extension from 20 seconds to 30 seconds. Not a massive increase, but 10 seconds feels so long when you are pushing out some serious watt bombs !!!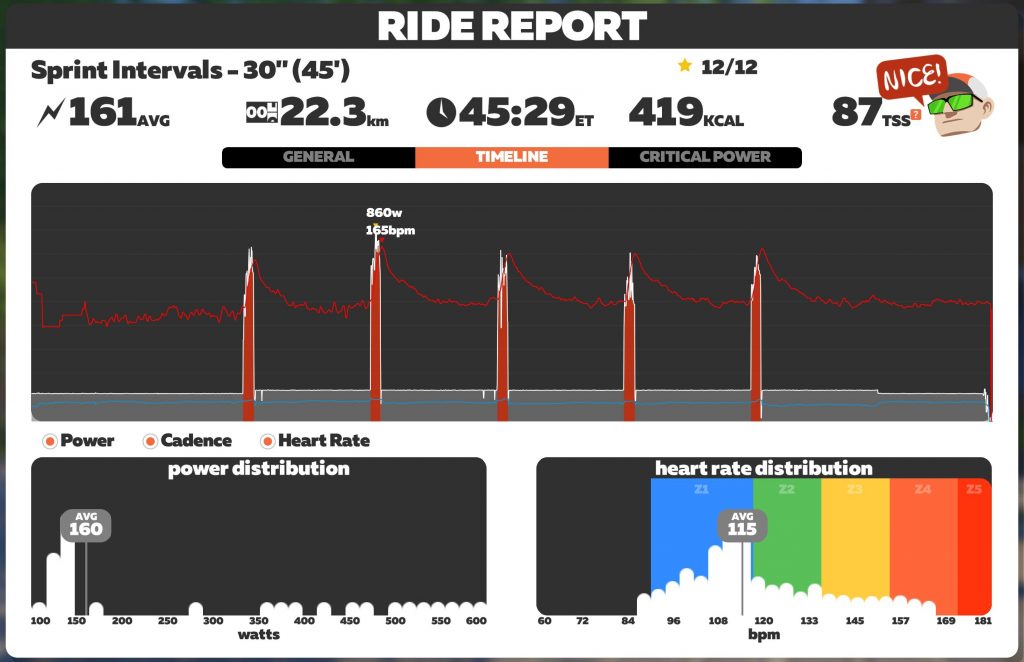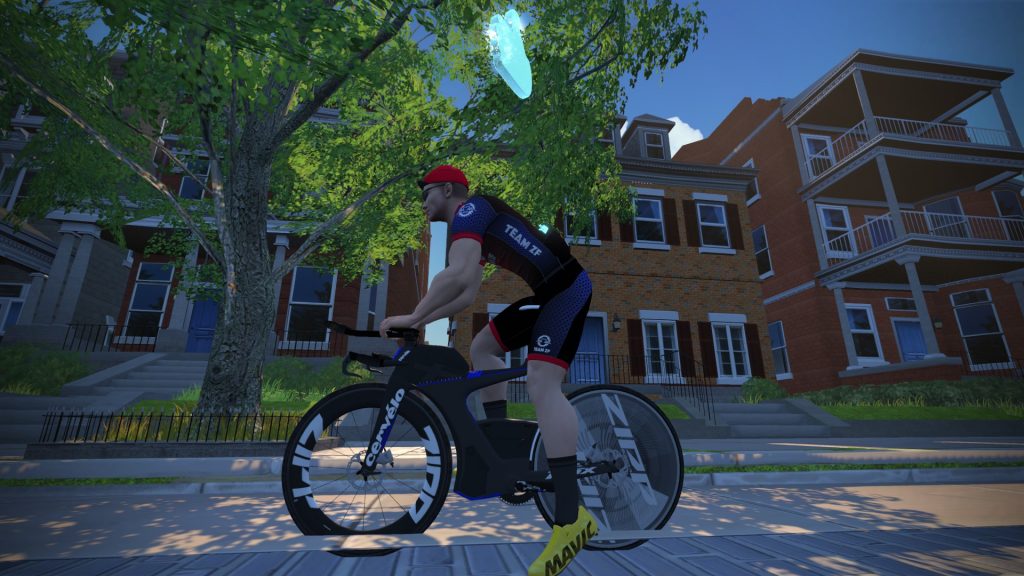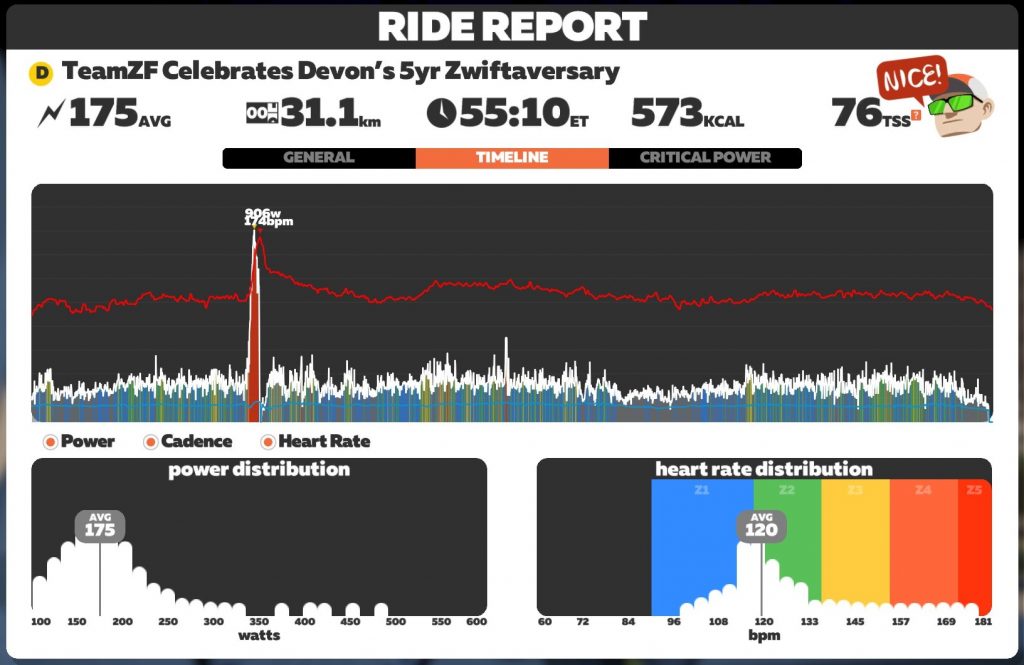 I chose the Richmond course for this one, a nice flat route to maintain consistent max efforts outside of ERG mode. A quick warmup and into the 5 x max efforts for today, the first one, testing out how the legs are feeling. Not going to lie, I was a little reserved, aiming to maintain an effort between 6.0-8.0w/kg on each sprint. I rode pretty well, my legs maxed out before my heart rate got its opportunity, I was very happy with my efforts, I even record this session for you guys to check out here: https://youtu.be/kyXLaGU6nB0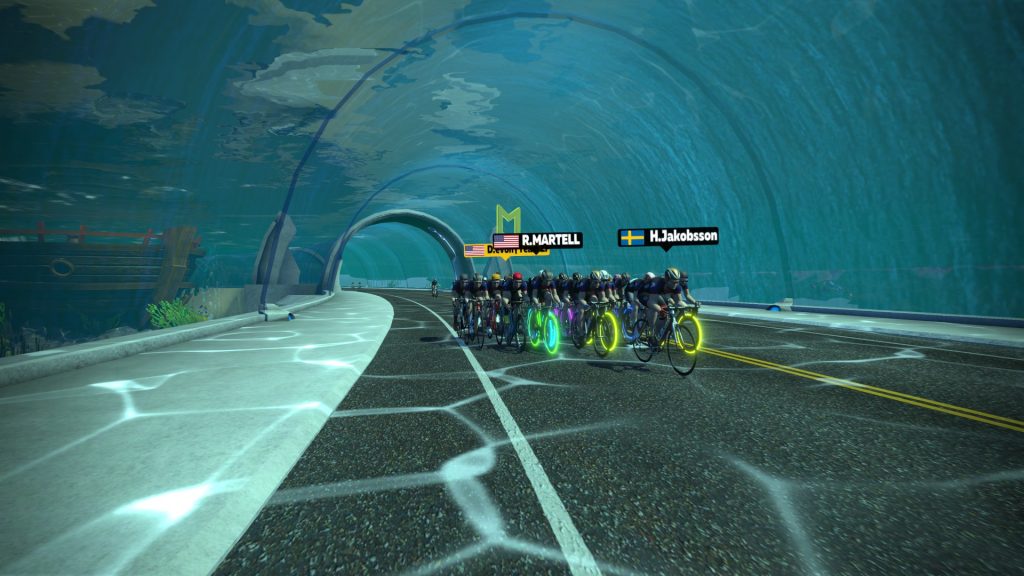 Luckily for me today is Devon's 5-year Zwiftaversary, so we have given Devon the reins of the normally TeamZF RSR ride, and branded it a Celebration for Devon. 3 laps of the original Watopia course Flat Route Forward, with a nice long-distanced sprint. We have some big hitters in the bunch today, as mentioned Sprint Master Devon, along with PJ, a regular competitive Sprinter of all ZF rides. I knew the boys would fight it out on the final lap sprint, so if I was going to get any Green Jersey it has to be on the first lap! Legs still heavy from the previous workout about 2 hours earlier, we were coming up to the start line, and it was time to wind up!
Ready… Set… Sprint!
Seeing that Devon & PJ weren't powering on, motivated me to push for it. Approaching the banner in the 360m sprint, my heart rate maxing out at 174bpm, just at beats away from my overall max effort, I managed to claim the Jersey with a PR time of 21:16. So happy with that, especially after the workout a little while ago. I rode the next lap with the bunch, and for the third and final lap, I conceded and used that time to spin the legs out and cool down. Meanwhile chatting with Devon over Discord, I see his body language change and he's getting ready to fire up the cannons!!!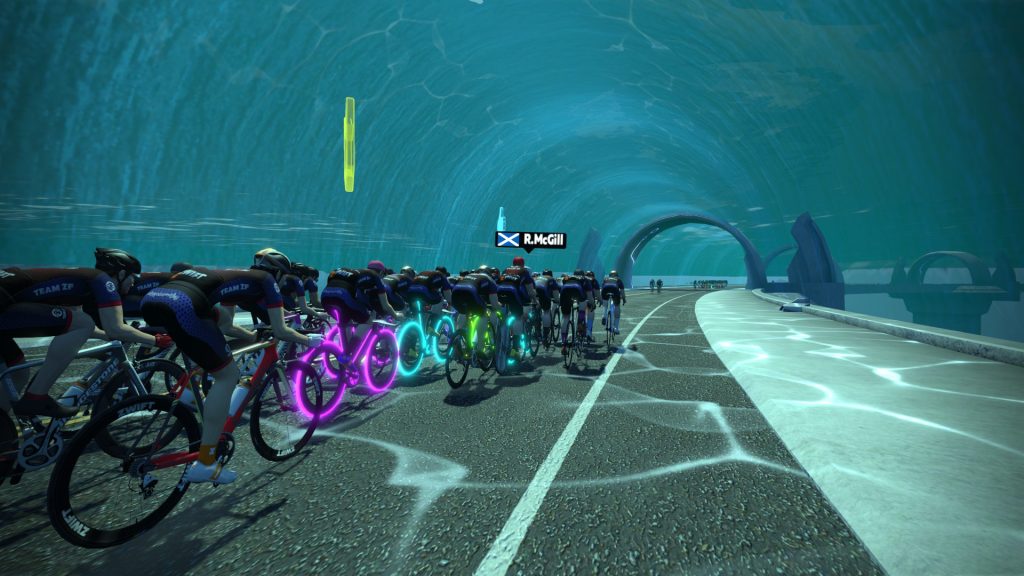 Not able to see him on course being towards the back by now, but I could tell the effort he had just put in, not only from the look of pain in his face but a few choice words he may have used as he was gasping for air !!!
When I got a little closer, the sprint leaderboard pops up and I see Devon at the top of the table with also a new PR of 19:06 and closely behind PJ pulling a time of 19.56. An amazing effort, I hope to get to these numbers one day!!
Congrats to Devon on an amazing effort of 5 years on Zwift, 970 Hard races, and many solid sprint efforts as seen tonight.