Week 3 in my journey with CoachPav, and I'm feeling pretty good. My body is feeling well prepared for these sessions.
I have been working hard on my nutrition, and being in more control of my hydration, with professional advice from the team at Precision Hydration.
After not being able to complete Sunday's 10' Sprint Interval session due to family commitments, Pav and I agreed it's best that we make Sunday a Free Ride Recovery day, and we make Monday a Key workout day.
New Peak Power
For the last week of the 10' Sprint Intervals, I managed a new 1sec Peak power just under 1500w and a new 5sec Peak power of 1230w. I couldn't be happier with the effort. Monday's are a busy day at work, and I was pretty tired when I got home, I spend a few minutes thinking to myself why I started this new Journey and remembered the things CoachPav had taught me,  It's ok if you don't feel amazing before every session, just do your best and be honest with yourself. Taking this on board, believing in myself and my Coach I gave it my all. See my sprint highlights here: https://youtu.be/w6DZ3DgGFzM 
I also managed a 60' Recovery Cadence-based workout with some friends via a Zwift Meetup, using this to spin out the legs and catch up with everyone's weekend from all over the world.
Enjoying an early finish than normal, and needing to clear my head I opted for a 60min Zone1 ride that CoachPav had given me previously, an easy spin, with a focus on cadence. It was a good way to get my frustration out from some issues during the workday.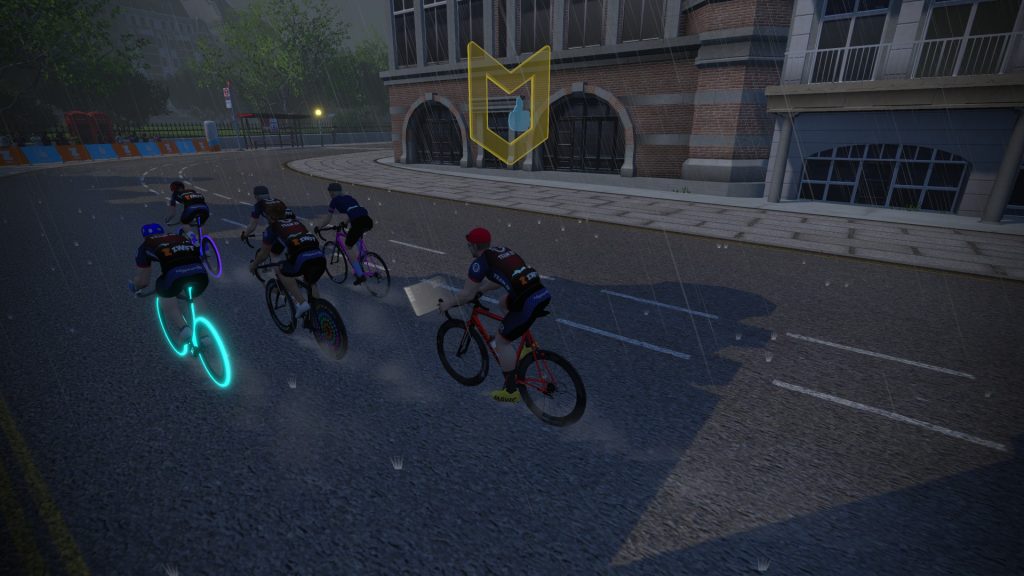 TeamZF Social Ride
Directly after we set off to lead the TeamZF Social Tour ride on Zwift. This week was a few flats, and a fair bit of climbing. A challenging group to lead over the rolling hills, but the group was amazing and made it enjoyable.
Our team is so amazing, with the recent time changes, we saw people getting up at 4am just to come and ride with us, truly amazing people w have in our community.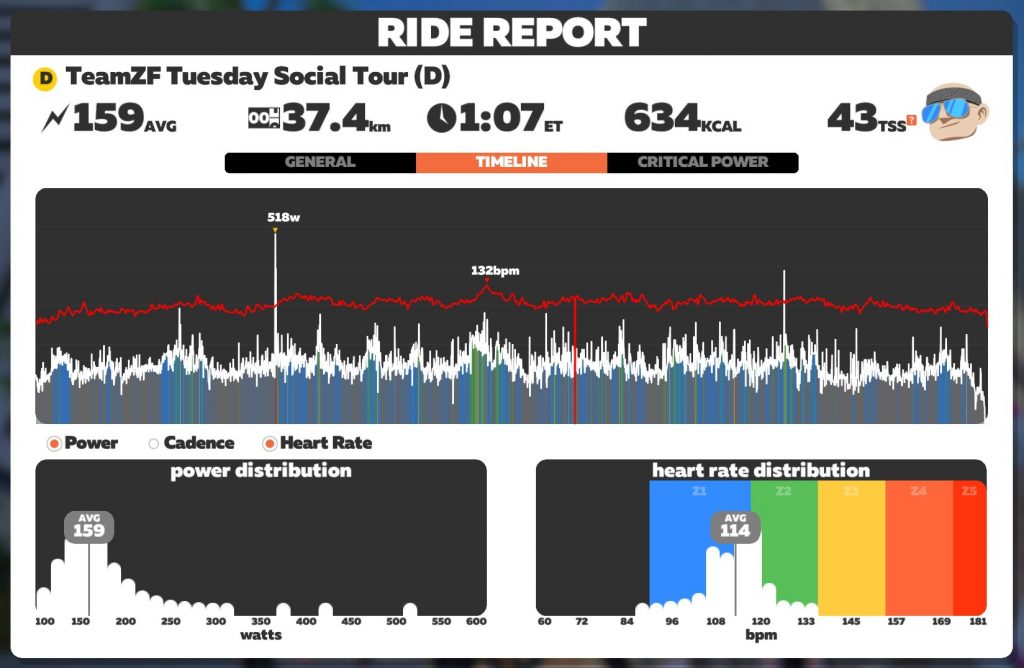 Wednesday Workout
Wednesday Workout – Now, I feel Coach is picking on me!! Last week we were introduced to "Pete's Special VO2 Max Intervals" with 12x 1min Intervals at 130% FTP, this week it's been increased to 15 !!! 
I'm not going to lie, 12 was hard, 15 is going to be a massive challenge. Not to mention, the Pillar-App is telling me I'm in an early fatigued state, but Pav knows his stuff, and wouldn't push me unless he knew I can take it.
I'm not going to lie, that session was a bit of a monster. I completed the workout outside of ERG mode, which is new to me, I haven't done this for a few years and I forgot how hard you have to concentrate on your cadence and gearing!
I was joined by some friends in a small meetup, and they helped push me to make it through all 15 efforts.
Thursday, and it's a short recovery day, yay!!! I need an easy day that's for sure, legs are feeling fatigued, mentally starting to be a bit of a challenge with the new job, I can only handle so much information going this ugly head of
mine!
Thursday Recovery Spin
Coach has me doing a nice 30min spin, Zone1, I shouldn't see the heart rate get over 120bpm.
Finally Friday!
Friday was a planned 10sec Sprint Interval session, but it didn't go to plan, after a busy week of work, I couldn't pull it together to even look at the bike tonight. I had to use this time to recover mentally, and a time to rest physically.
The best part about having a great understanding Coach is being able to talk about these roadblocks and discuss ways to change it up. next week to limit the chances of it happening again.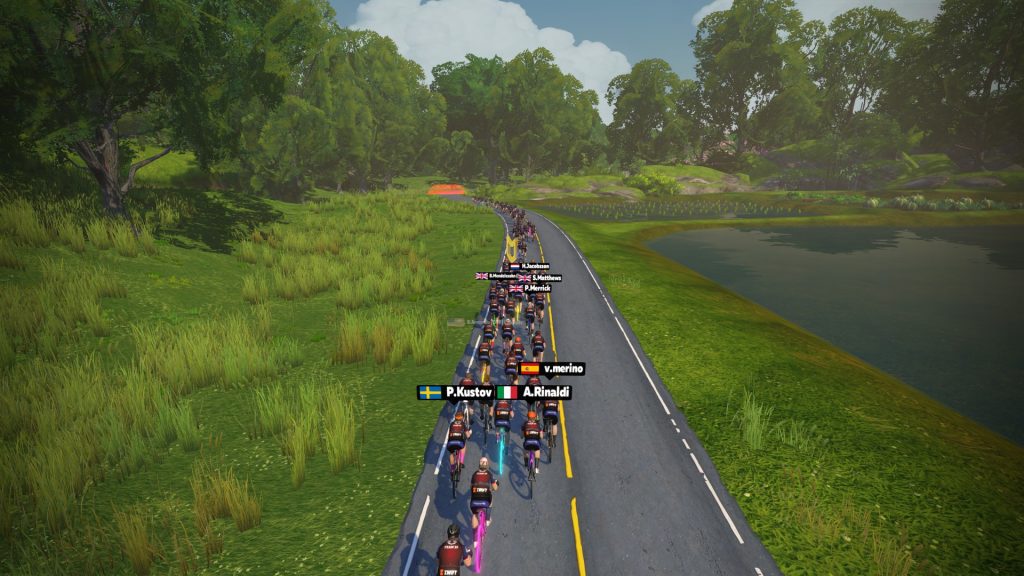 Saturday Fun Ride
As we look towards my Social Saturday ride, this event is mostly flat, after a quick 10km warmup, I joined the event for a fun ride, with some sprints and a spicy finish. Banking 37kms in just over the hour, stretching the legs on the sprints felt good, and the last 5mins I turned up the heat to hold around 150% of my threshold for the majority.
A bunch of new riders joined, it's so good to see the community grow, and be involved with what we do each week.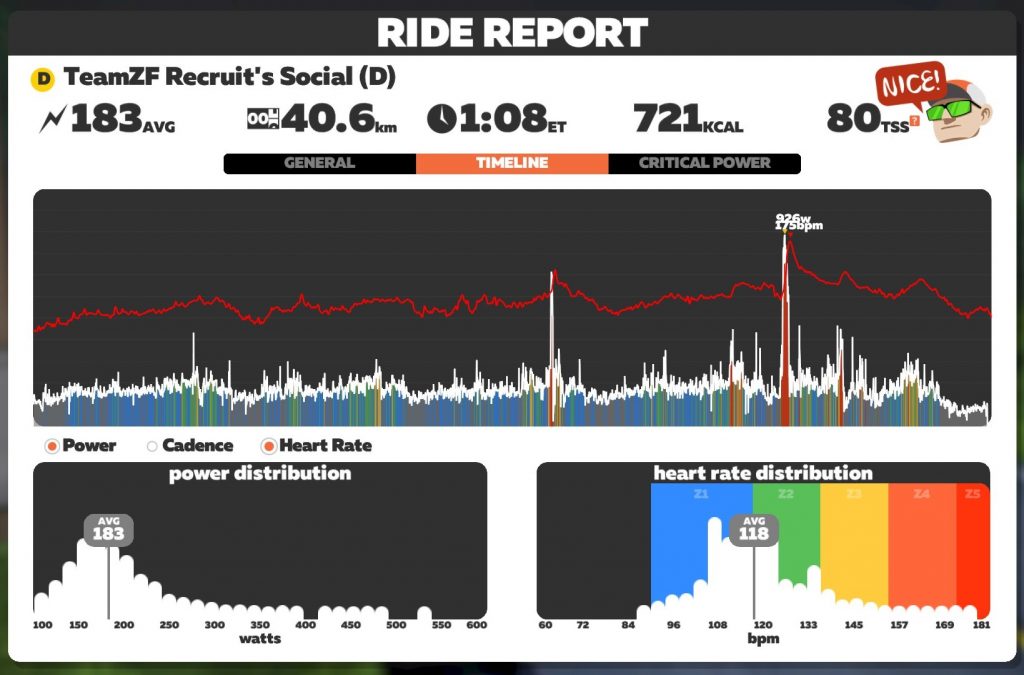 Sunday Makeup Ride Just Didn't Happen
So as we had changed Sundays to a "Free Ride" day, with my Friday being a missed session, Coach has moved the 10sec interval workout to today. 
Unfortunately, I didn't get today's session done. For a number of reasons, feeling a little down from having to ask so many questions at my new job, coming from something I knew very well, I've never been one to ask for too much help. Resulting in me feeling incompetent. Something I hope to develop a tolerance working with Pav again.
Let's Bring on next Week Team!