I have a handful of cycling YouTube channels that I like to watch when I'm riding on the trainer or when I just need to figure out something bike-related. Because YouTube can be a total time-suck – but it can also be a tool to get better at cycling. And if you're ever stuck in the car pickup line or trying to pass the time between intervals on the trainer, a great video can be a total sanity-saver. 
For example, GCN and Park Tool YouTube channels were both essential when I was trying to figure out how to put a chain on my bike all by myself! Since then, I've learned not to put the chain on backward! (Thank you Calvin and Ollie for your assistance).
There's just so much to learn and so many new cycling channels to discover. If you don't know who to trust on YouTube, I've got you covered! I put together a short list of channels that I turn to first when I need to know something about my bike or I just want to be entertained, cycling style.
Here are just a few of my absolutely essential YouTube channels for cyclists. Feel free to add your own!
GCN is my go-to YouTube channel for just about everything cycling. They cover everything from bike fit to cycling controversies (rim brakes, anyone?), to tire pressures, women's issues, and so much more. And they do it all with sarcasm, wit, and tons of research.
But there's more – they have a bunch of other channels that cover cycling tech, racing, mountain biking, and triathlon. So if you want to be entertained while learning about bikes, check this out.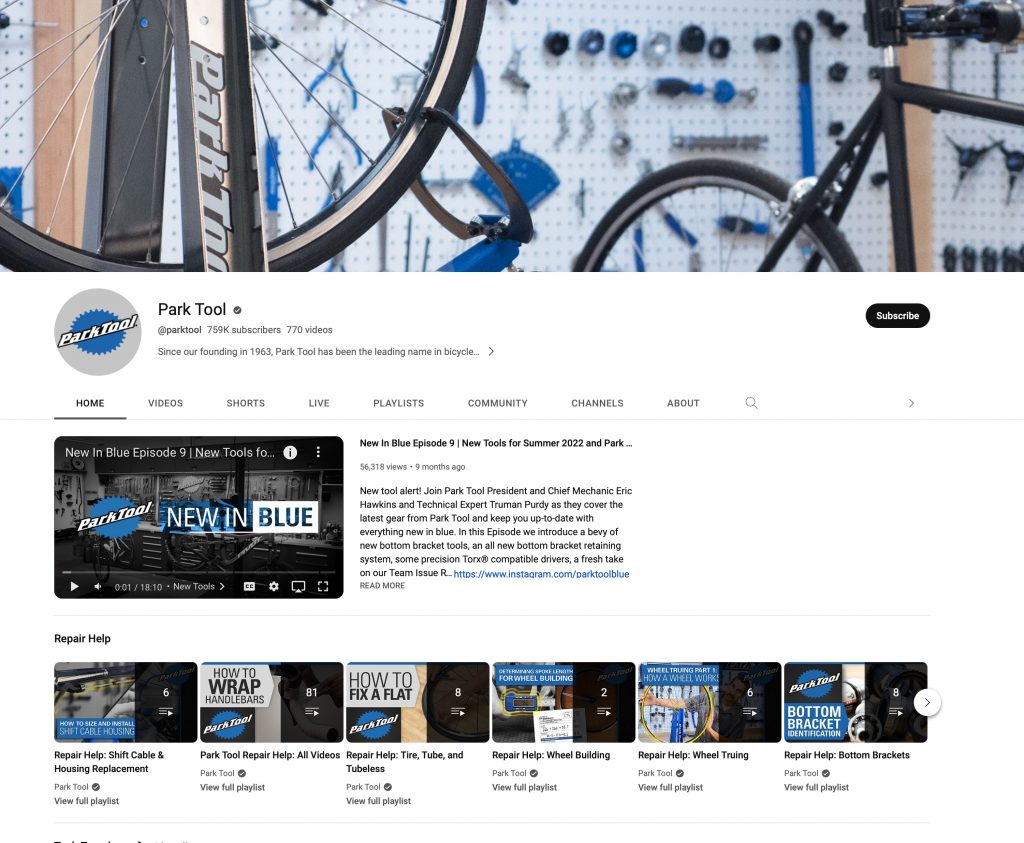 It's no secret that Park Tool makes awesome cycling tools that are top-notch quality and aesthetically pleasing in the iconic Park Tool Blue color. But if you need to know how to fix something on your bike, the Park Tool YouTube channel will show you.
Calvin patiently and meticulously teaches how to fix all kinds of bike problems, from bleeding your brakes to adjusting your rear derailleur. If you've got a tech issue, you need to watch Calvin show you how to fix it.
I started watching this channel because Charles filmed his experience at the EF Coaching Pro Training Camp in Girona. There's a lot that you can learn just from that series of videos, but he's got lots more great stuff on there, from nutrition, racing, marginal gains, and bike gear. Oh, and he plays Flamme Rouge, too.
Bicycling has plenty of videos on training and getting faster, but where they really excel is their ability to evaluate and recommend bikes and bike gear. It's a great place to start your research if you are looking for a new bike, a set of wheels, or just want to see how your bike stacks up against others. They've got workouts to try, bike repair info, and some cool rider stories, too.
Rebecca is a World Champion (7 times over!) adventure cyclist. She's also an author and speaker. Her YouTube channel features her crazy adventures, tips and tricks, education, inspiration, and doggies, too!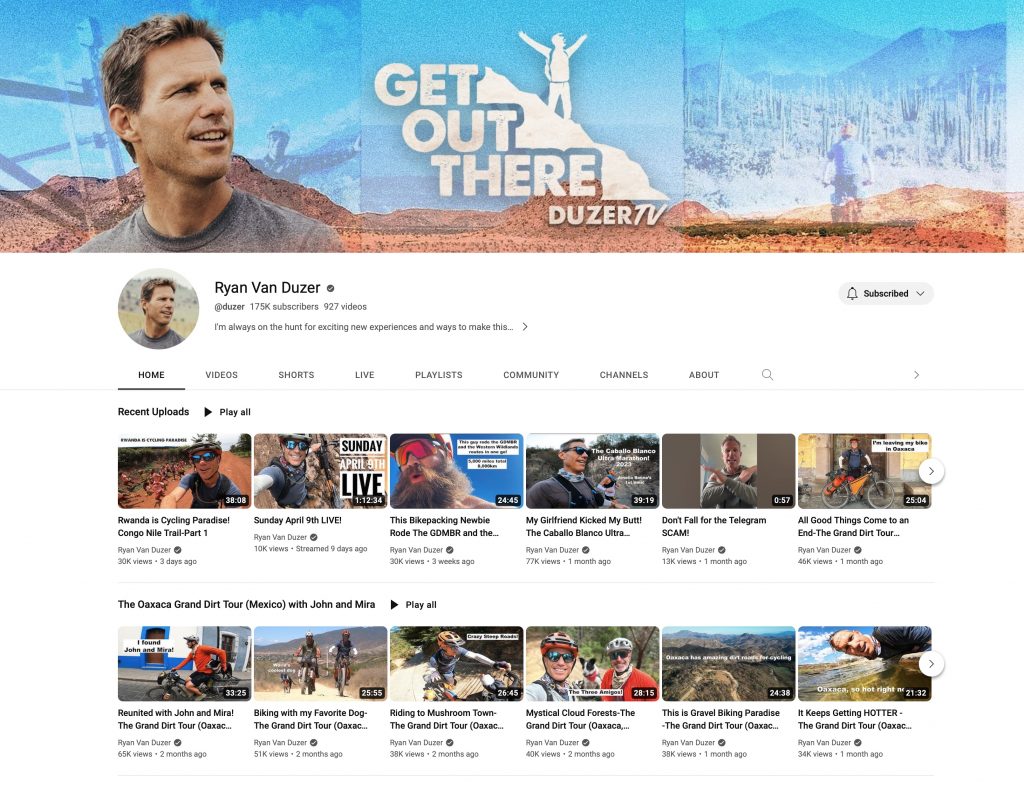 If you've ever wanted to learn about bikepacking and bike touring, then this is the channel to watch. Ryan films all kinds of bike adventures, and you can't miss his love of beans. He's ridden all over the world and tackled some crazy-tough terrain in the process. But you can get ideas for packing your bike and eating on the road just from watching.
He's entertaining and kinda goofy, but he respects the places he goes and the people he meets. Definitely worth watching, especially if you want your eyes opened to just how far a bike can take you.
I came across this channel while searching for solutions to my numb hands when riding. There is some really good info on here about bike fit and training. If you are suffering on the bike or have a lot of pain, you might want to search these videos for ideas and solutions.
There's also a lot of training information on how to recover better, get fitter, and stay motivated. So again, this is a great go-to for problem-solving your pain and discomfort.
BikeRadar has a great website for all things bicycles, but their YouTube channel is like the icing on the cake. They test all kinds of bike stuff and present reviews on bike tech, gear, skills, and anything making news in the bike industry.
They discuss pro bikes, fads, women's bikes, and e-mountain bikes. But what I really like is their comparisons, where they talk about which bicycle is best, what wheelset is faster, and what power meter pedals work the best.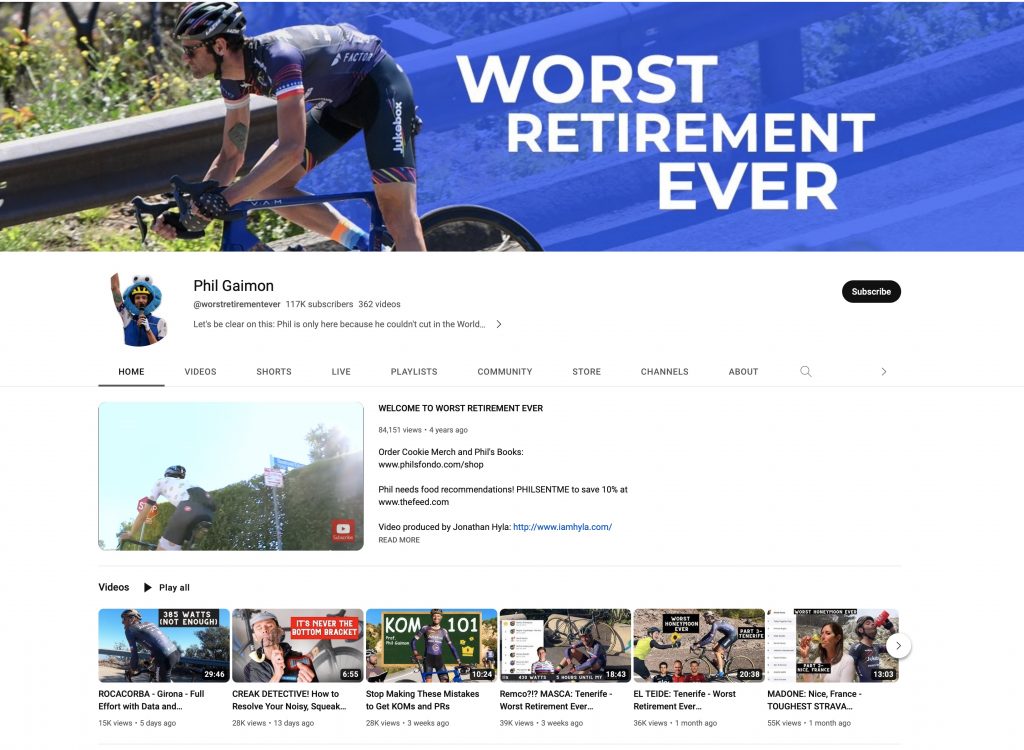 Maybe it's the cookies. Maybe it's because he used to train near places I like to ride. Or perhaps it's because he's both goofy and really good at bikes, but this is a great channel. Phil is a retired pro racer who uses his influence to raise money to feed hungry children. What's not to love here?
He's got a lot of cool content about his rides, his quest for KOMs, tips, fitness, funny challenges, a couple of great books, and cool merch. You can even ride with him in Cali at his annual Cookie Fondo.
Watching bike gear reviews never gets old for me. I want to know as much as possible before spending my hard-earned dollars on some expensive piece of bike tech. Cycling Weekly has a plethora of buyer's guides, so start here if you're looking for something specific like a new saddle, a hybrid bike, or new tires (or tyres, as the case may be).
They've also got tech of the month, training tips, pro bike guides, and when to save and spend money on your bike.
Sometimes, it's hard to learn from watching the pros race because they're just head and shoulders above us regular folk. So in walks Claudio – or should I say in rides, Claudio? He's a cat 4-upgraded-to-cat-3 racer.
I like his videos because he's very accessible and narrates his races for us so we can all learn a thing or two. He's candid about what went well and what didn't. He teaches a lot in his videos, too, so just by watching, you'll learn race techniques and strategies for us ordinary folks.
If I had to pick a fav cycling team, it would be EF. They're just different! I was super excited when Alison won the Paris-Roubaix Femmes. What a hard race and a great win! They share a lot of race news, what the team is up to behind the scenes, and bike tips.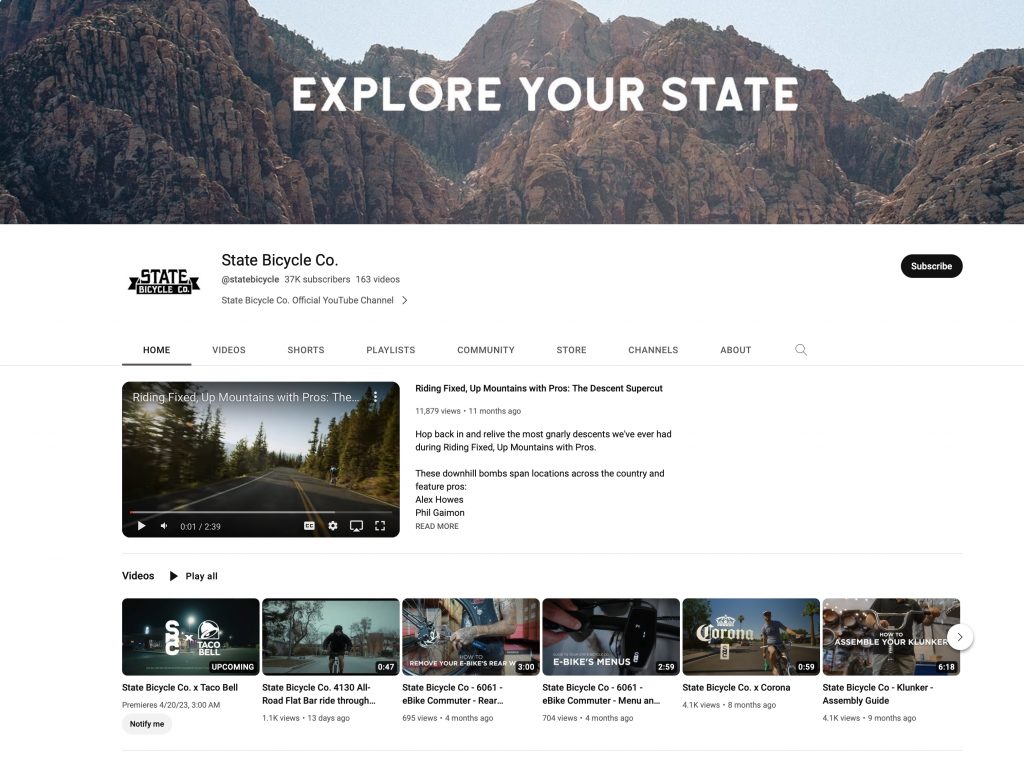 First of all, State makes very fun, very affordable bikes, especially if you are into fixed-gear bikes. I have a cute little fixie that I purchased heavily discounted from the State Outlet shop, and it was the perfect intro to riding fixed. But their YouTube channel makes it even more exciting.
State has an entire series of videos on Riding Fixed Up Mountains, with Pros. It is incredible what a pro-cyclist with a fixie can do on a big climb! They also have a ton of guides, how-tos, and race news for their team.
I definitely have a soft spot for State Bikes – check them out!
What Are Your Go-To YouTube Cycling Channels?
I'm sure there are plenty more amazingly good cycling YouTube channels. So let me know in the comments who or what I need to watch next! And if you prefer reading, check out some of these great books on cycling.