I used to be that person. The one who wouldn't leave the house without makeup. Not even to go to Walmart or the pharmacy drive-through. I told myself it was just because I liked wearing it. I spent hours of time and hundreds of dollars on the latest makeup trends, scoured the hottest beauty magazines, and touched up my makeup all throughout the day. It took up a lot of time and energy to look 'good.' 
Oh, when I first started cycling, I still put my 'face' on. But when I got into riding hard, I'd finish a ride with more makeup underneath my eyes than on them. I wanted to wear makeup all the time, but should we really wear makeup on the bike?
But now that I'm a little older and wiser, in hindsight, I think it was really a deep-seated insecurity that no one would find plain old me very attractive. But, of course, we all have insecurities sometimes or about some things, and they tend to change and evolve as we get older or experience different life circumstances.
What changed me? Cycling.
When Covid hit, and I started working fully remote, I didn't have much of a reason to wear makeup. As a result, I've become very comfortable with myself without wearing any makeup at all. Don't get me wrong – I still love me some plum eyeliner and dark-as-night mascara for date night, but for every day – I'm finally ok with myself just the way I am. 
That being said – what if you do want to wear makeup on your bike? It's ok with me! In fact, there may be reasons why you would want to.
First of all, perhaps you feel the desire to look a little more feminine on the bike. Because let's face it, the helmet hides our hairstyle, glasses hide our pretty eyes, and helmet straps just aren't that flattering under our chins.
Perhaps you are commuting to work and want to look nice when you get there.
You're riding your bike to an appointment, errands, or even to a date!
You just love wearing makeup.
Or maybe makeup makes you feel better, so you ride better, and there's nothing wrong with that! We all want to look good, even on the bike!
So how can we keep our make-up on our faces where it belongs? Let's talk about it!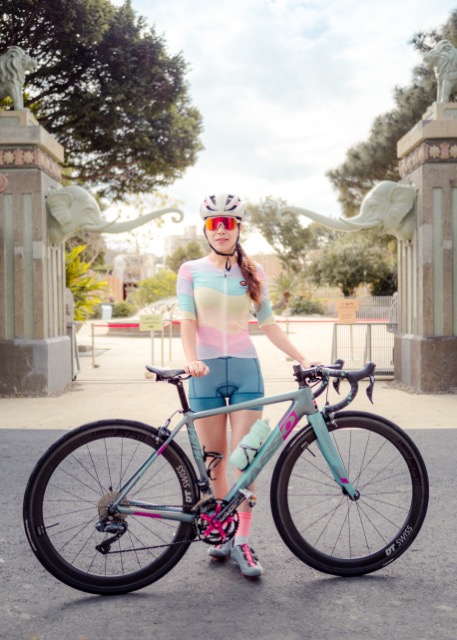 Skin Care
First of all, you've heard this before, but good skincare is a must! 
Wash your face twice a day, moisturize, and treat any skin issues with the help of a professional. If you can't get to a dermatologist, check out Nurx.com (no, they didn't pay me to say that – but it's affordable and accessible professional skin help!)
Try to treat any issues so you don't have to cover them up. The better your skin looks, the less likely you'll feel the need to layer on foundation and concealer.
Wear Sunscreen Every Day
Sunscreen won't just protect you from skin cancer, it will also prevent dark spots, uneven tans, and even wrinkles.
Skip Foundation Makeup on the Bike
On the bike, skip the foundation. It will smear, run, cake, and look uneven when you get hot and sweaty. Instead, you'll be better off with a tinted moisturizer, tinted sunscreen, or BB cream. It will help even out your skin tone, but it soaks into your skin more than it sits on top of your skin, like a powder foundation.
Personally, I like Cover Girl Clean Matte BB cream for oil skin. It's inexpensive, easy to find, and you don't have to be super-precise when you are matching your shade to your skin color. A little bit goes a long way, and it just evens out your skin tone a little bit without getting thick and caky.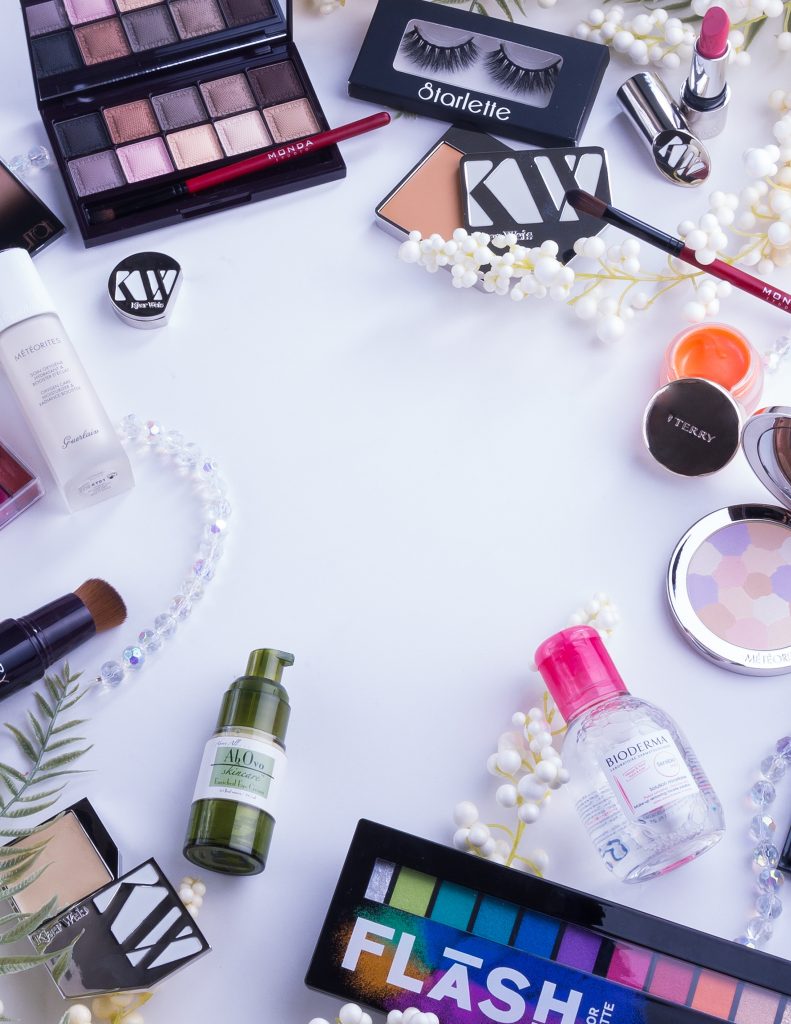 Best Waterproof Eyeliner for Riding Your Bike
If you want to wear eyeliner when you're riding, keep it minimal. We aren't in a fashion show, so too much eyeliner is going to look a little bit awkward at your next group ride!
Instead, choose a waterproof eyeliner – I like Sephora Retractable Eyeliner in Deep Plum. It stays put pretty well, and it's a pretty color that isn't too harsh. 
I only line my upper eyelids if I'm going to be riding, and I use a very thin, light line. It's just enough to define my eyes. Avoid lining underneath your eyes – this part of the eye is much more likely to smear when you sweat.
Best Waterproof Mascara for Riding Your Bike
I like to put mascara only on my upper lashes when I'm riding so it doesn't smear on my lower lids. Waterproof mascara works great and stays put. You can skip the fake lashes – they'll look overdone on the bike.
I like Maybelline Great Last Waterproof Mascara or Two Faced Better than Sex Waterproof Mascara, if you want something a little more high-end.
What About Other Eye Makeup on the Bike?
If you really need to wear eyeshadow (hey, I'm not going to judge!) I would suggest going with something a little bit neutral. A pale beige or creamy color in matte will open up your eyes but won't be too obvious if it wipes off while you're riding. Also, use a very light hand when applying!
Lip Balm is Better on the Bike
Remember, you'll be sipping on your water bottle throughout your ride, so avoid any heavy, bright red lipsticks. A clear gloss, or in my case, just a swipe of my favorite lip balm, is more than enough, since you'll likely get dropped if you stop to reapply!
If you feel the need to look more girly on the bike, remember you can always keep your eyebrows nicely groomed, wear a bright and pretty shade of nail polish, and choose kits that are more feminine-looking.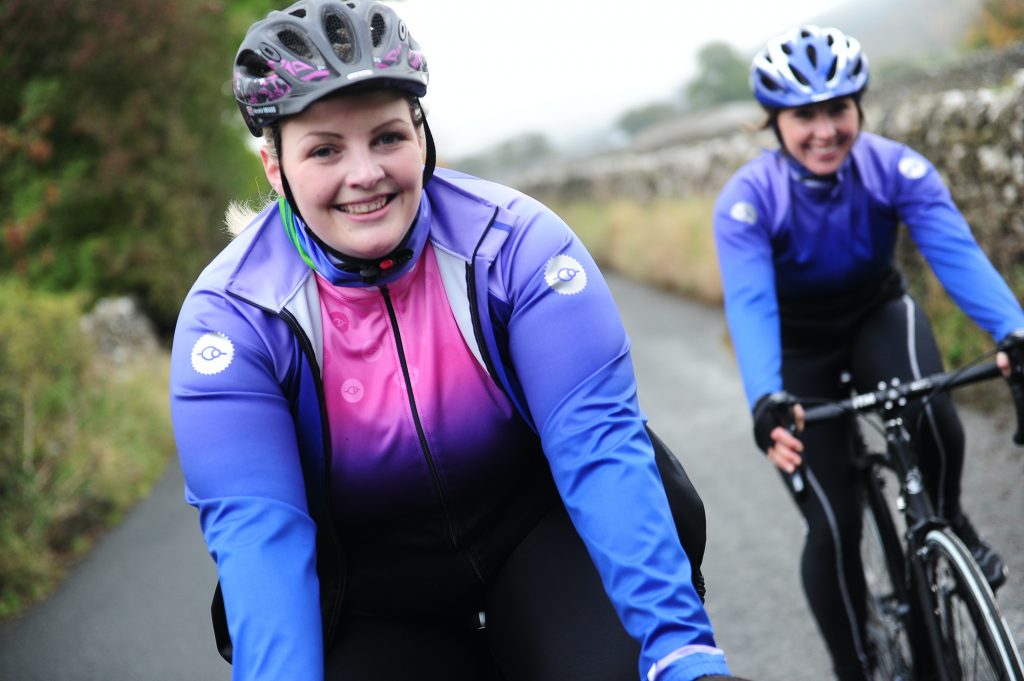 Less Makeup Is Always More 
If you are going to wear makeup when riding, just remember that less is more, and waterproof is everything.
Most of all, I hope you have the confidence to just be yourself – whether on the bike, off the bike, with makeup, or without. Remember that you don't owe anyone a pretty face! You aren't obligated to wear the latest trends, fake perfect skin, or look like someone you aren't. You are enough just as you are, whether you are riding or not.