I have a problem. I love cycling jerseys, and somehow I have more than I can actually wear. When I first started cycling, I purchased the cheapest ones I could find on Amazon. And do you know what? There's nothing wrong with them. But as I got deeper into cycling, I discovered better quality jerseys that did a better job. So which should you choose? How do you know what cycling jersey you should buy? Do you even need a cycling jersey? Let's talk about it.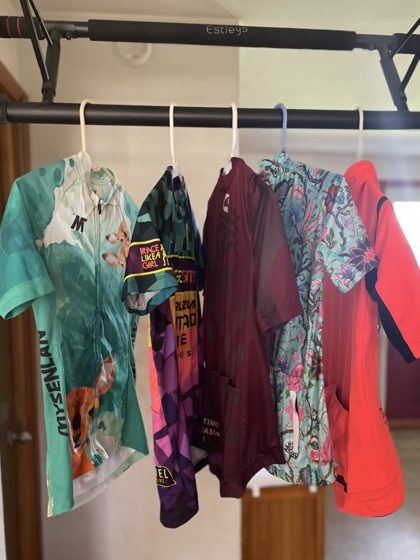 Why Do You Need a Cycling Jersey Anyway?
You can ride your bike in just about any clothing that you want. If you're more comfortable in a t-shirt, I'm surely not going to judge! And if you are just getting started, it's ok if your cycling gear budget is too small for fancy bike clothes. But there are a few good reasons to invest in an actual jersey, should you want to.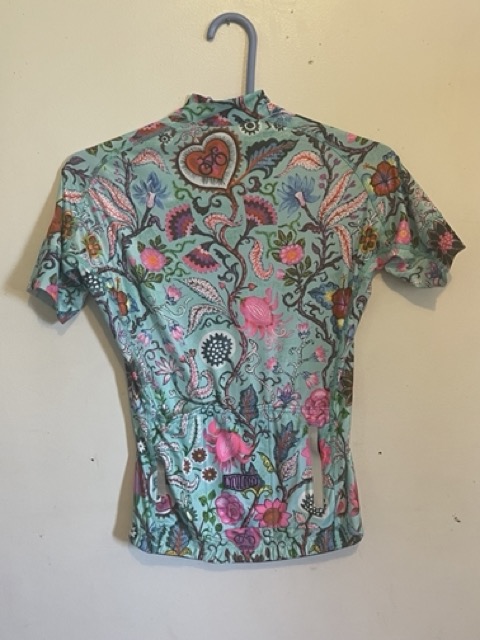 Snack Pockets
There's a part of me that wants to wear a cycling jersey all of the time! Because you can't beat carrying snacks around on your back! In all seriousness, cycling jerseys have two or three (or more) pockets on the back to bring snacks, supplies, or tools for your ride. Many jerseys have a hidden zipper pocket for your money or car key, too.
The reason the pockets are on your back is because pants pockets, hip pockets, or shirt pockets will be in the way when they're full of stuff. On your back, they're more easily accessible, and the contents won't poke you in the stomach when you sprint for the finish line or the next township sign.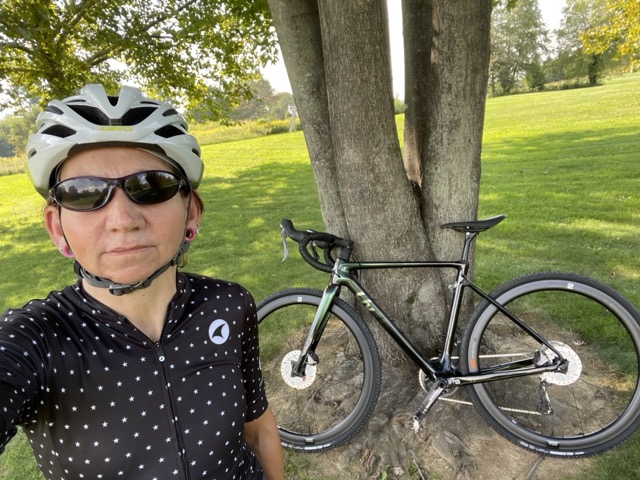 Aerodynamics
Where I live, it isn't uncommon to see Mennonite ladies riding their bikes, their long dresses flapping in the wind. Of course, they have good reasons for their attire, but it isn't very aerodynamic.
Cycling jerseys are created to be aerodynamic. The fit and the material are intended to allow the wind to blow over it rather than cause extra drag. Loose clothes, like sweatshirts or baggy clothes, will catch wind like a parachute, slowing you down.
Safety
Safety is another great reason to wear a cycling jersey rather than just a t-shirt. Cycling jerseys fit tight, making them less likely to get caught on things. Many jerseys have reflective accents built into the design. Many are brightly colored, too, so you are more visible on the bike. Many jerseys are made from SPF fabric, which will protect you from sunburn, too.
Comfort
The fabric of a cycling jersey is designed to keep you comfortable when you're riding. They allow excess moisture from sweat to escape. Winter jerseys are designed to deflect the wind and moisture while keeping you warm without overheating. In addition, the stretchy fabric is made to be comfortable – kind of like yoga pants! 
Dress for Success
We actual do better when we dress better, whether that's sports, school, or work. So dressing the part helps us ride better.
With all of those reasons to wear a jersey while cycling, how do you know which one to get?
What Type of Jersey Do You Need?
There are so many different types of jerseys. First of all, there are ride-specific jerseys. For example, mountain bike jerseys tend to be looser, long-sleeved, and they don't have snack pockets! But they are well-suited to the type of riding.
Road jerseys, on the other hand, fit more snuggly, are often short-sleeved, and have jersey pockets.
Race jerseys are even tighter, and many fit like a second skin.
Your first job in choosing a jersey is to decide what discipline of riding you're into.
Riding Temperature
In the winter, you could wear a fleece-lined jersey or wear a cycling jacket over a traditional jersey. In the summer, mesh jerseys are designed to allow as much heat to escape as possible, keeping you cooler. You may want long sleeves for the cold or even sleeveless for hot weather.
Jersey Fit
Jersey fit is the most mysterious and difficult aspect of choosing a jersey.
First is the style of fit.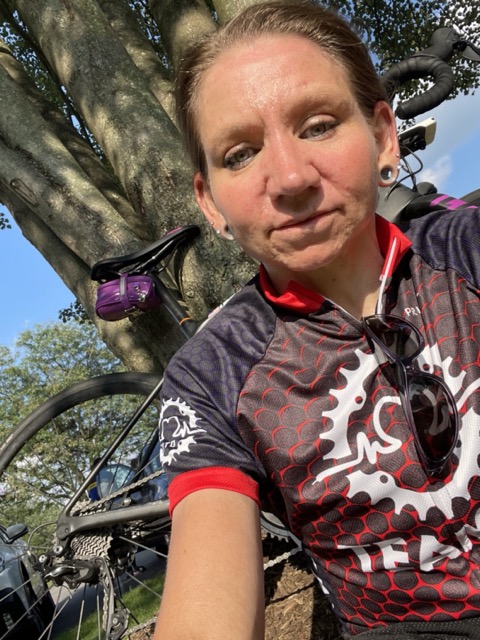 Club fit or traditional fit jerseys are slightly looser and less form-fitting. If you dislike tight-fitting jerseys, this is the style you want. They still fit close to the body, but they're just a little bit looser than other styles. Also, club fit usually has slightly shorter sleeves. I don't usually like club-fit styles because the elastic gripper on the sleeve cuts into my bicep.
Aero fit is typically a little bit tighter. I love aero-fit jerseys because they are form-fitting, but I don't feel like they're uncomfortably tight. Aero-fit jerseys usually have slightly longer sleeves, so they lay smoothly over your biceps. I find this to be more comfortable on my arms.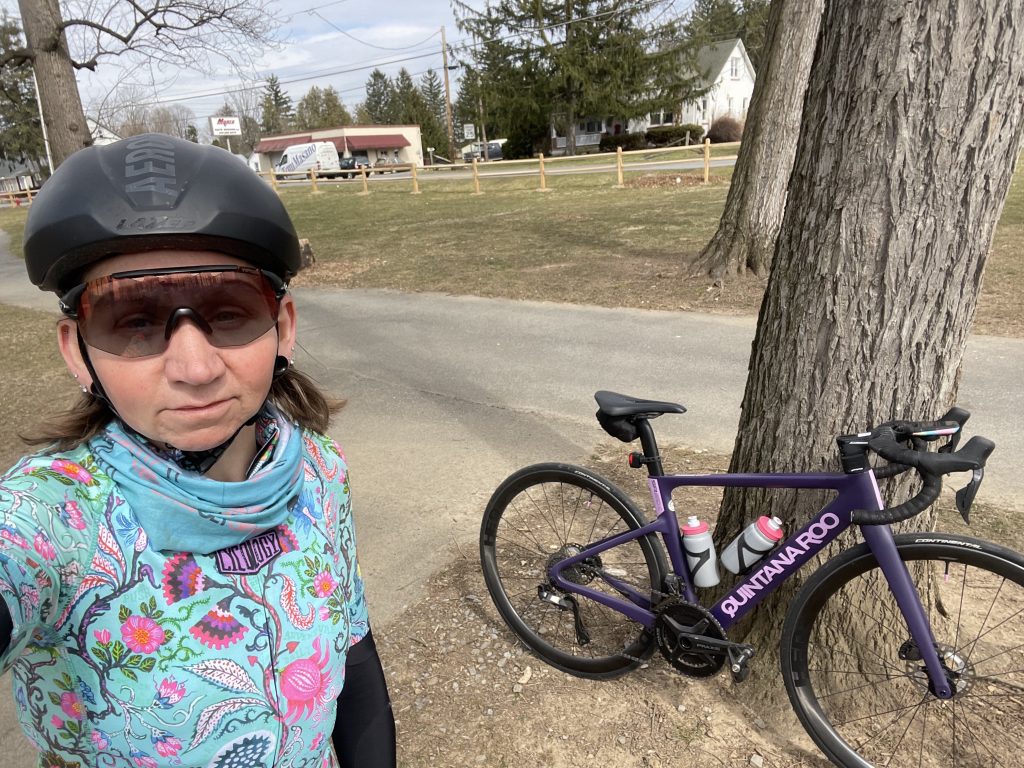 Race-fit jerseys are even tighter. They're meant to fit like a second skin, and they may even look painted on. These types of jerseys are made to be as aerodynamic as possible and are potentially less comfortable than the other types of jerseys.
As we mentioned before, mountain bike jerseys are a different style altogether. They're made for rough trails, so your arms are more covered, and the fit is a little bit loose. However, they still have the same sweat-wicking properties as a road jersey or technical t. Some mountain bikers and gravel riders will wear a button-down shirt instead.
Gravel jerseys are a wide spectrum, falling anywhere between race fit to mountain bike. Gravel cycling is a more relaxed type of riding unless you're in a gravel race!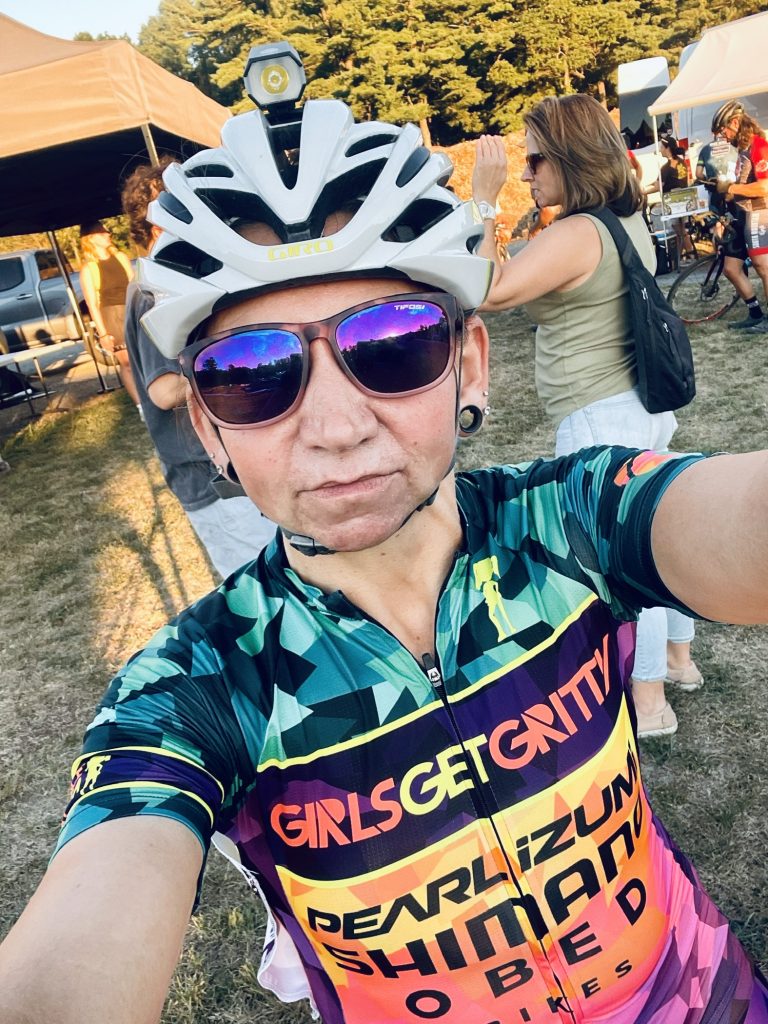 Jersey Sizing
If you're like me, you'll be buying your jerseys online, so you might be concerned about getting the right size. Therefore, you'll want to pay very close attention to the size charts associated with the jersey you are buying. Take your measurements very carefully and compare them to the size charts, noting the type of fit you want.
Some of my cycling friends say that some brands size smaller than others. For example, in Pactimo, I'm an XS, but I needed a medium for the jersey I bought at Amazon! It's generally suggested that you purchase a size up one size when buying Castelli, although I haven't found that to be the case at all. I'm an XS in Pactimo, Castelli, Pearl Izumi, and Cycology. But it all depends on body shape.
I'm very short-waisted, and I don't like when jerseys bunch up in the front. So I would rather have my jerseys fit tight, like a second skin than have them be too long. But, of course, your fit and preference may be different, so check the size charts carefully before you buy!
Cycling Jersey Material 
Your jersey material varies widely, depending on the quality of the jersey you are buying. For example, inexpensive jerseys that you might find on Amazon just won't have the same quality of material that Pactimo, Cycology, or Castelli will have. 
Mesh jerseys allow for more airflow, while heavier materials give you a little more protection and smoothing properties.
Jerseys made with Gortex, like my Castelli Perfetto, will block wind and moisture and keep you warm in cold weather.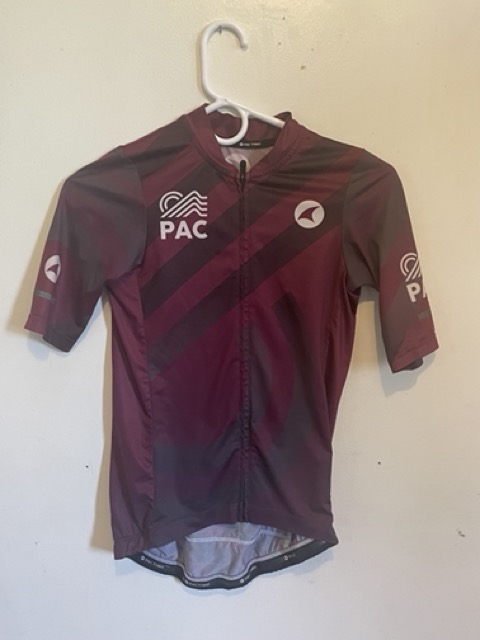 Sleeve Length
The current trend is toward elbow-length jerseys, which I prefer. I find that club-fit jerseys with shorter sleeves awkwardly sit across my bicep, while elbow-length sleeves are more comfortable.
Sleeve Cuffs
I like raw edge grippers on my sleeves because they look sleek. Some have nice hems with a silicone strip inside to keep the sleeves from riding up.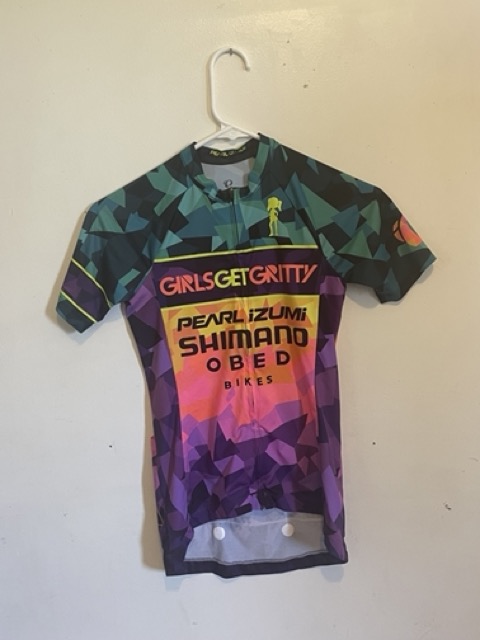 Cycling Jersey Length 
Most jerseys are shorter in the front and longer in the back to cover your bum when you are in a cycling position. You'll appreciate this while riding, although it may look awkward when you're standing up. If your jersey is too long, the pockets will hang far over your tush, which might be uncomfortable if you have snacks in them. And it might cause trouble if it gets caught on your saddle!
Bottom Gripper
Most jerseys have some sort of a gripper on the bottom, too. This keeps the jersey from riding up when you lean forward.
Jersey Pockets
The best thing about the jersey is the pockets! Most have three pockets in the back. My Gabba only has two. In addition, some jerseys will have a hidden zippered pocket for money or keys. You should be able to reach into your pockets while you are riding so you can grab your snacks without stopping.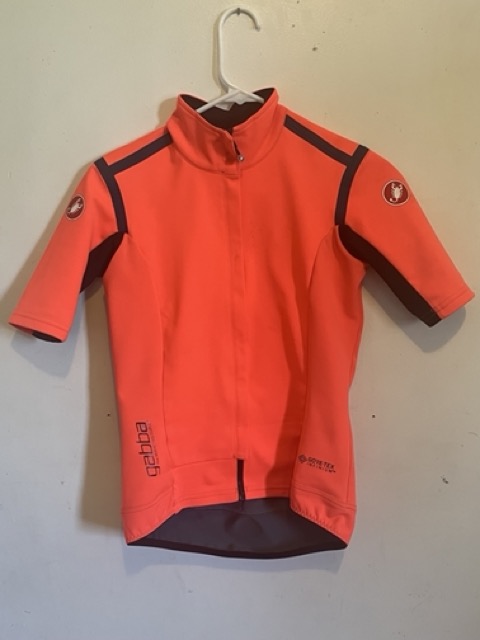 Zipper
You'll be amazed at the quality of the zipper on a high-end jersey versus a cheap one. High-end zippers will stay in place better, which is helpful if you want it half-unzipped to cool off. They are also more comfortable against your skin if you don't wear a base layer. And they will last much longer! I've found that the zippers on inexpensive jerseys are harder to zip and break more easily.
Price
Of course, price is usually the deal breaker when it comes to buying a good jersey! But you don't need an entire closet full of jerseys – just enough so that you can easily have a clean jersey when you ride.
Jerseys can cost anywhere from $25 on Amazon to $200+ for a custom design. So you'll want to be prepared to pay around $100 for a good-quality jersey. But don't despair if that doesn't fit your budget!
First of all, there's nothing wrong with an inexpensive jersey. If that's what fits your budget – great! Find one you like and wear it with pride. You'll probably find that even a cheap jersey is more comfortable to ride in than a cotton t-shirt, anyway.
However, if you really want a high-end jersey, look for the outlet or wholesale tabs on major retailers' websites.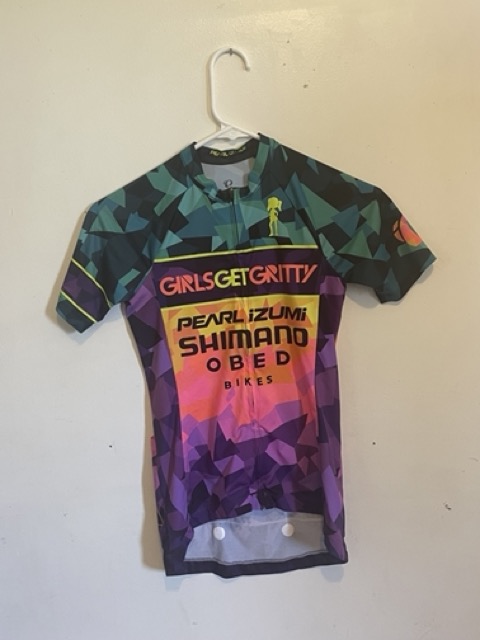 You can often find last year's style on sale for as low as $25 on websites such as Pactimo, Cycology, and Pearl Izumi. There may be fewer color options or sizes to choose from, but you can still get a great jersey at a really good price this way.
Style Verses Visibility
I love stylish jerseys, and when I first started riding, I was into wearing all black because I thought it looked cool. But after riding for a while, I can really see the importance of a high-viz jersey.
A stylish jersey in bright, eye-catching colors will help motorists, other cyclists, and even pedestrians see you. So don't be afraid to wear bright colors that aren't typically in your wardrobe – it will help keep you safe!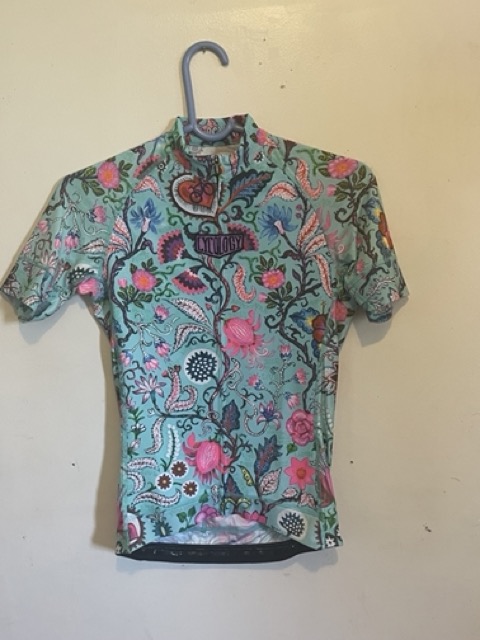 I love the bright coral color of my Gabba and the colorful Cycology jersey – they help me be seen when I'm on the road. But save the neutral colors for your regular wardrobe.
My Recommendations for Buying a Cycling Jersey
Ultimately, you'll want to find a brand or even a couple that provides all of the critical things you want in a jersey and offers a great fit for your body shape. Of course, it can take some trial and error, so you make sure if you are ordering online that, you purchase from a reputable company that has a good return policy. (Hint – most custom orders aren't' returnable, even from high-end manufacturers). But if you are looking for a place to start, here's what I recommend.
Reasonably Priced, Consistent High-Quality Bike Wear: Pactimo Cycling Jerseys
I don't always buy jerseys from the same company, but I do have favorites. For example, Pactimo is my go-to brand for day-to-day cycling wear. They are reasonably priced and have fantastic sales – and you can earn rewards. I also know that every extra small Pac jersey will fit me exactly how I like, so it's easy to jump on the website and purchase a new one if I need it.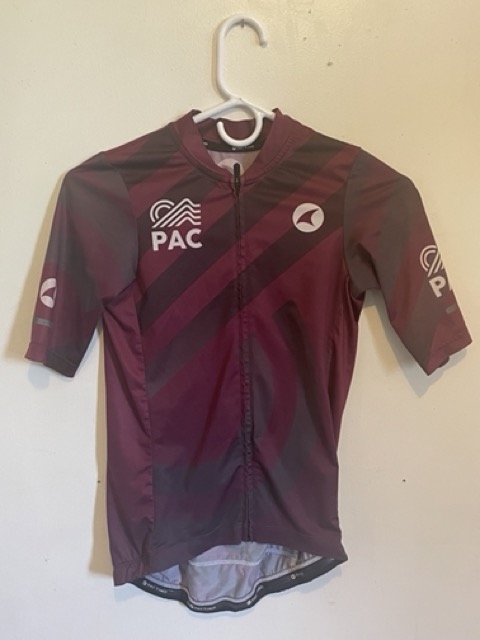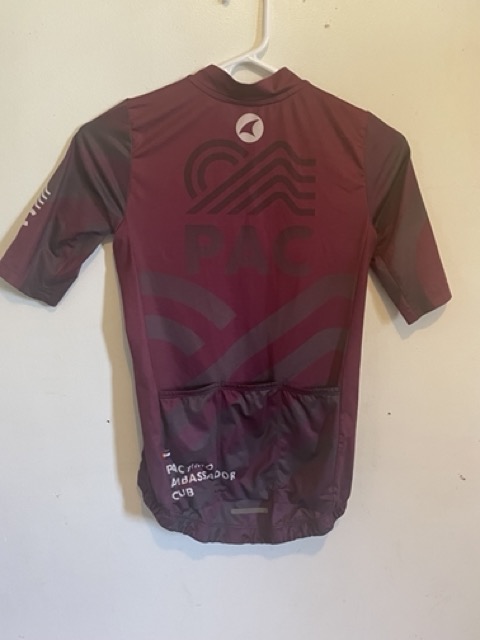 Also reasonably priced is Pearl Izumi, which I also wear.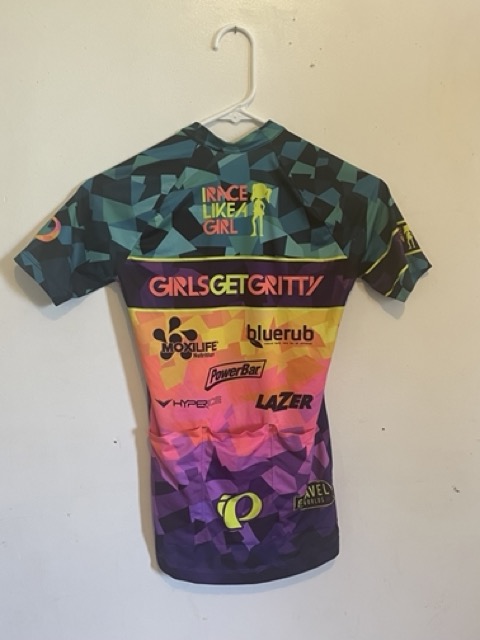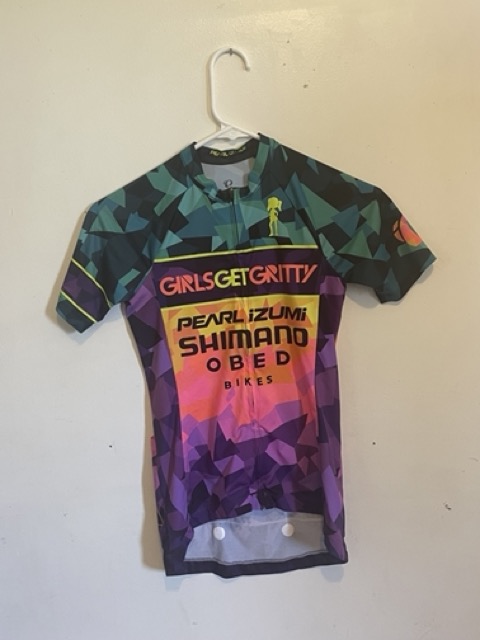 Unique Style, Visibility, and Accessories: Cycology Cycling Jersey
But for style and visibility, I just adore Cycology jerseys. These are artisan-like pieces of cycling wear at great prices. The quality is impressive, and the fit is perfect. I love the silky feel of the fabric. It has a little bit of weight to it without feeling hot and heavy.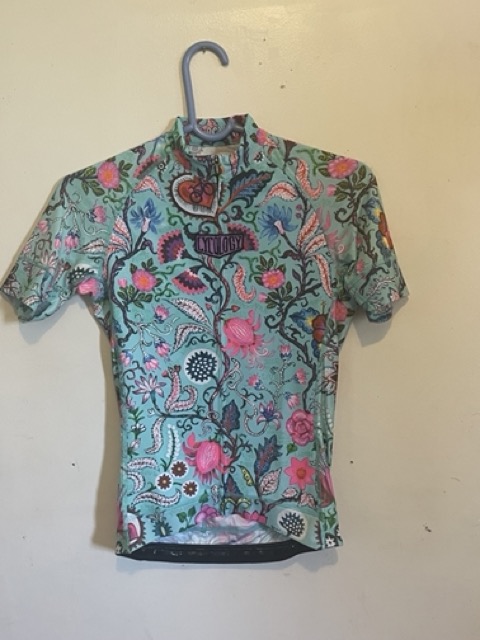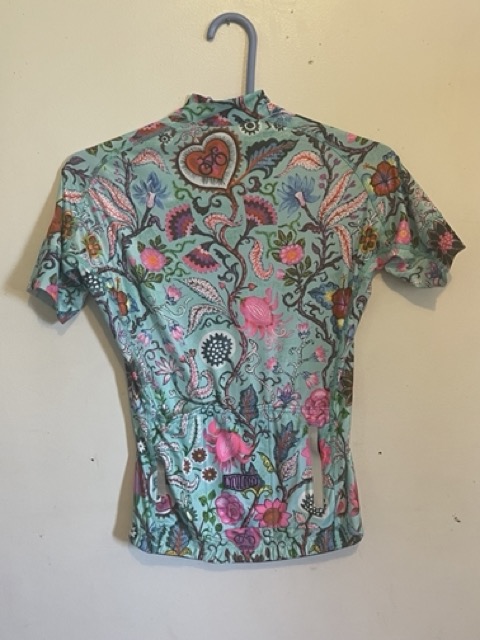 Cycology has amazing designs that are eye-catching and easy to see – you'll definitely stand out in a crowd – and they have coordinating accessories, bibs, shorts, socks, and even bar tape!
Warmth and Prestige: Castelli
For warmth, I totally love Castelli and my Gabba. It blocks the wind and moisture and keeps me nice and insulated. Paired with a wool base layer and sleeves, it's amazing for cold days.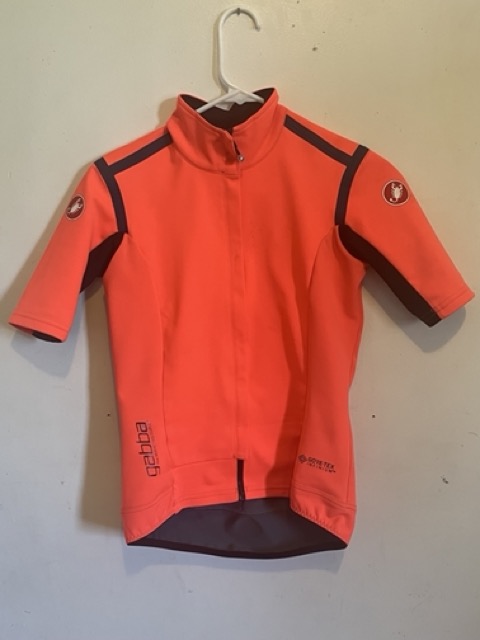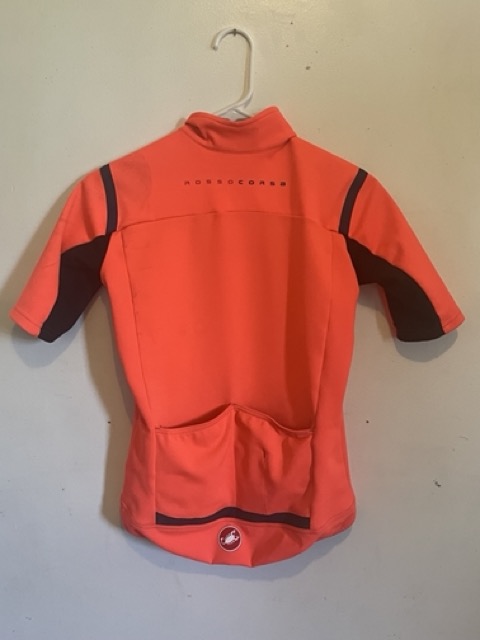 Their day-to-day cycling items are equally high quality, and of course, they come with the prestige that many pros use their offerings to race. Castelli is a bit more expensive than many other brands, but it's definitely worth it for the quality if it fits your budget. 
What are your go-to jerseys for riding? And what are your tips for getting the best deal? Let me know in the comments!