WEEK 12
Monday
Kicking off the second week of 2022, and it's the start of the famous Tour de Zwift !!!!!
But first, we have our normal easy Monday spin to get the legs moving.
No Frills, 55mins in zone 1, high cadence, getting ready for Stage one in the TDZ.
Tuesday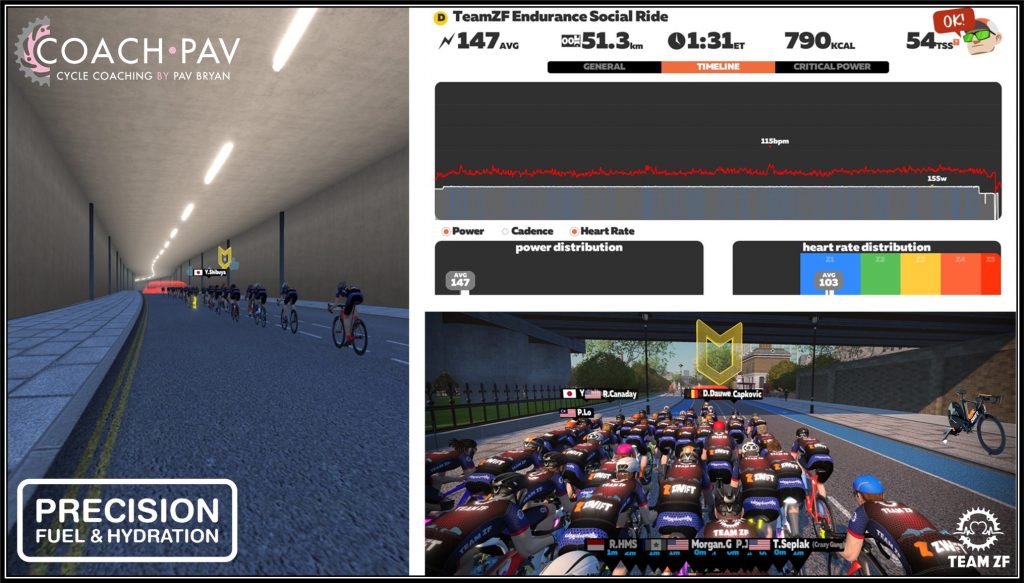 Tuesday, and time for our weekly endurance ride. But first, the release of the TDZ this week, I used part of Stage 2 to warm up for my lead ride. The TDZ 2022 kit looks great, some great things to unlock, this is going to be a great tour!!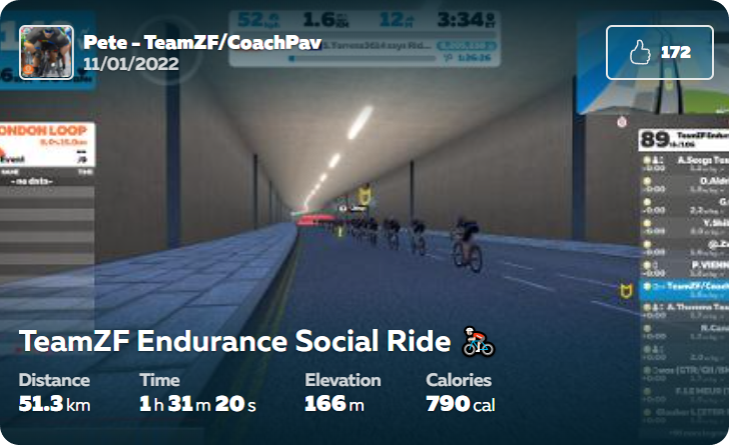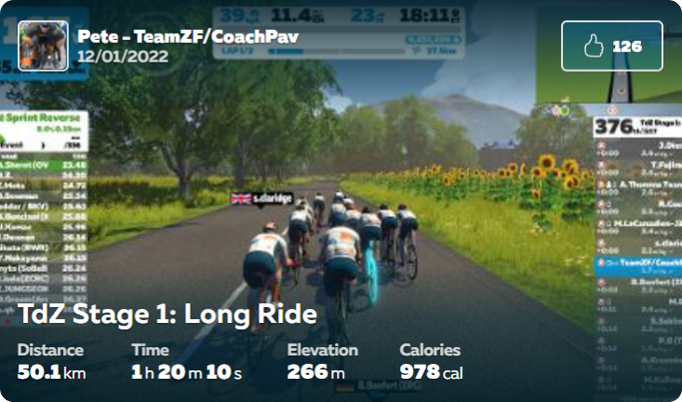 Back to our ZF Endurace social ride, Our goal for this event is to hit the 55kms in the 90mins while maintaining no more than a 2wk/g average. We managed 51.3kms this week, me and the group are just getting used to this format, and we have plenty of work to do if we are going to get to our target. 
Wednesday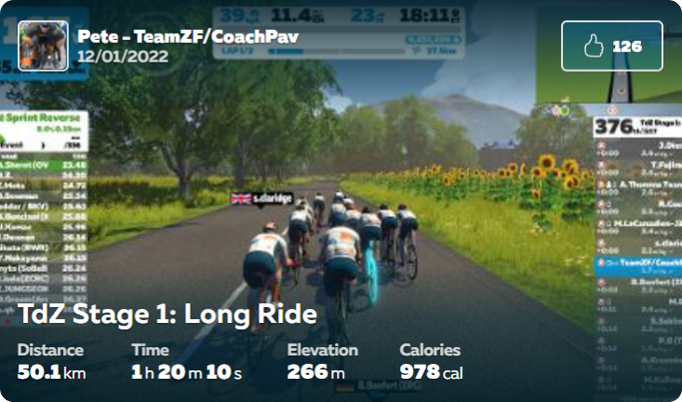 Wednesday, and time for me to kick off the TDZ stage 1, the Fast Flats Stage. Opting for the longer ride, 50kms in the amazing France countryside. This world I can never get enough of, great things to look at, and routes have just the perfect amount of flats, rolling hills, and short KOM sections. No better way to kick off the 2022 tour for sure!!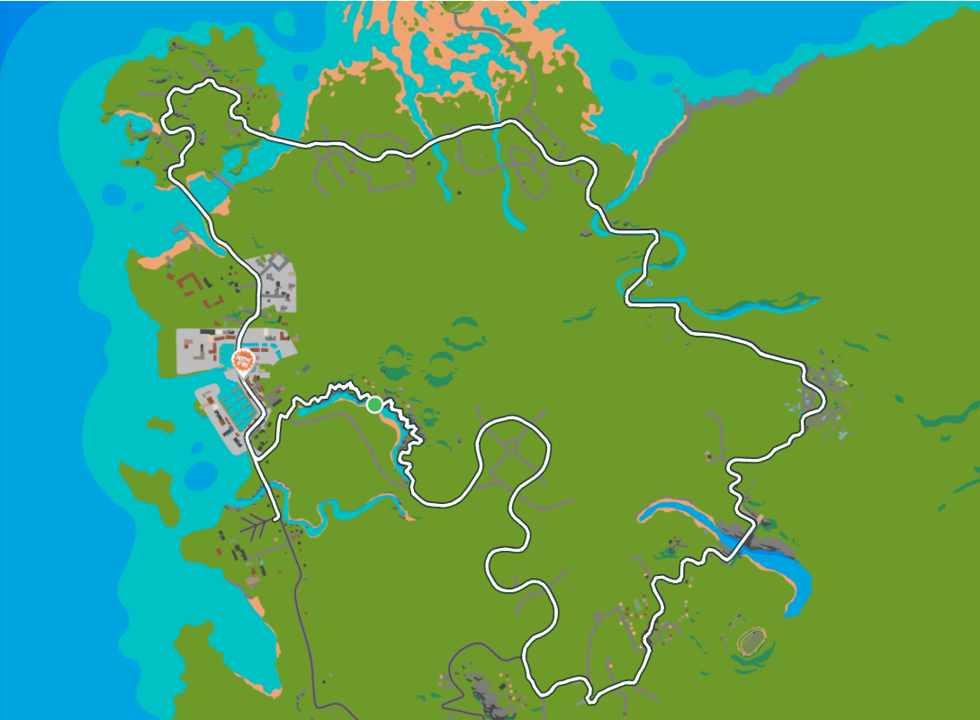 Thursday
Thursday CoachPav had some VO2 max intervals planned, I wasn't in the mood for a scheduled workout today, it had been a long day at work, and I knew if I took on the workout, I'd just give in and not push through.
A quick note to Coach, and we decided for me to take on the Chop Handicap Race. He did mentioned, if I didn't win I would have to complete the workout after the race anyways !!!!
The course being Innsbruckring, I had raced this course a few times, and I knew the areas where we need to work as a team, and areas when to jump.
Joining the D grade, as per Zwiftpowers category, it was a really quick start, and we lost a few riders quickly. The format of this ride is the group must work together to stay within the cat limits, and prevent the higher cats from catching us.
2.5 laps down, and there were just 4 of us in the lead bunch, we had a helper back a few kms advising when the other groups were catching. We were passed by a B rider, a very fast B rider going solo, watching his numbers….he was no B rider, so we stuck to our plan of holding as a bunch till a couple of kms to go, then we would break and try to bring it home. For me that was on the inner city climb, also known as the Leg-Snapper in the community, for obvious reasons, it's a hard short climb that can win and lose a race. I had managed to gap the fellow D riders, they didn't attack as much as myself, and I knew it was now or never if the D's were going to take this one out.
A steady 2.5wk/g to the line, with a final push as I could see the B group coming home fast, I managed to take the win by the smallest of margins. This was a great win for the Cat D's, a great Team effort. I was just honored I was the guy who managed to be the first across the line, so Coach, I will be missing today's workout haha!!!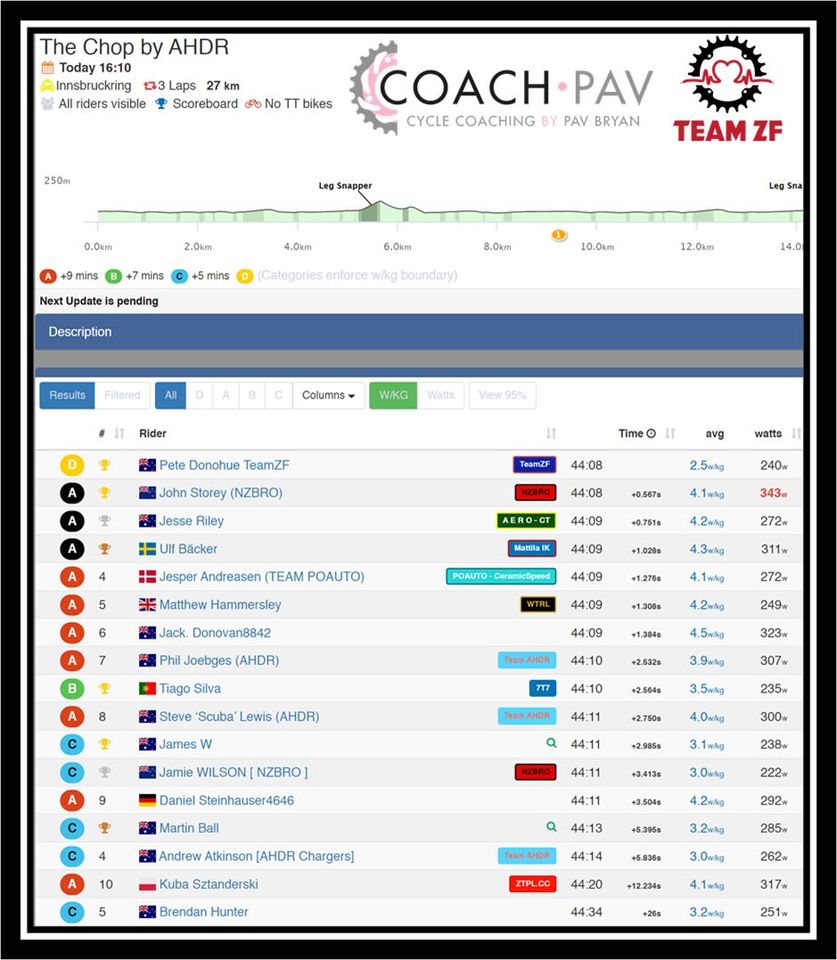 Friday Saturday and Sunday
Friday to Sunday this week I was away, out of town. My partner had a sporting event she had been invited to, and it was a good time to get the family away for a short break during the school holidays.